Bible Study and Rock Music: An Interview with the Band Kutless
John D. Barry, Editor-in-Chief of Bible Study Magazine
Thursday, October 14, 2010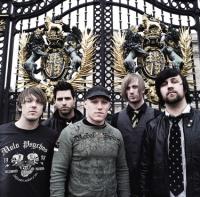 "Christ took our beating and paid the wages of our sin (Romans 6:23). He took our cuts for us … leaving us 'Kutless.'"
The rock quintet Kutless has brought this message to a massive fan base. The band sold over 180,000 copies of their debut self-titled album, and 250,000 copies of their 2003 album Sea of Faces. Kutless started out as a campus worship band at Warner Pacific College, originally called "Call Box." Today, three different singles by the band have reached the top of the Christian music charts.
The band's passion for the gospel of Jesus Christ comes out when they perform evangelism conferences and fundraisers. The band performed for 100,000 people at the Billy Graham Crusade at the Rose Bowl in Los Angeles, CA. They also played a show which helped raise $50,000 to assist relief efforts after hurricane Katrina.
In the midst of a packed tour and recording schedule, band members find time to regularly do something they see as of the upmost importance—study the Bible.
Two of the founding members of Kutless—Jon Micah Sumrall, the band's lead vocalist, and guitar player James Mead—sat down with Logos Bible Software's Director of Ministry Relations, Scott Lindsey, for an interview about the importance of Bible study to the band.
BSM: Why is the Bible and Bible study integral to what you do as a band?
JAMES: The Bible and Bible study is important because what we do every night is fresh for whichever community we are in. I regularly have to be reminded that we are giving and out-pouring what we feel the Lord has called us to do—sing about our relationships with Him, talk about what some of the songs mean, why they were written, and how they glorify the Lord. We have to not only be loving towards the audience, but the people who have been planning the show for months before we showed up that morning. Being studious with the Bible on the road is integral to what we do because we have to get filled back up somehow.
BSM: As a band, how do you stay on track with God?
JON MICAH: When we get off track with God it is usually corporate. We tend to slide together quite frequently. It is like a family. If you look at the typical family, if the parents are not doing well, then the kids are not doing well. Likewise, if the parents are doing well, the family as a whole often does well. It seems to be that way a lot with the band. If there are a couple of us not doing well, we are all heavily affected by that.
BSM: What is it like to study the Bible on the road?
JON MICAH: I have always been a fan of starting out my day reading the Word, but that didn't work so well for me on tour—we are up late, get up early, and are then rushed off to interviews. Before I realized it, I had gone for or five days without reading the Bible. At some point, I came to the realization that I can always stay up a little bit longer to read my Bible. No matter what, your basic needs each and every day have to be met—you have to do whatever it takes to make sure you stay in the Word.
JAMES: When we are on our tour bus, I have a rule that I cannot get out of the bunk in the morning until I have read a chapter in the Bible. Usually I make myself do that rather quickly, because I have to visit the restroom. The Bible pared with intense motivation works really well!

We try and do what we can to stay in the Word. All of us in the band have iPhones, so throughout the day when we are thinking about a verse and wonder where it is, we just look it up on an application on our iPhone.
JON MICAH: The other day someone gave me a wallet that has a little printed New Testament Bible inside. It is a cool deal because you have your wallet, with your billfold, and a little New Testament Bible just slid in there. I think it's important to have a way to get into the Word whenever, wherever, and however you can, especially when you travel.
Have something to say about this article? Leave your comment via Facebook below!
advertise with us
Example: "Gen 1:1" "John 3" "Moses" "trust"
Advanced Search
Listen to Your Favorite Pastors