Big Daddy Weave: Great Expectations
Andrew Greer, CMCentral.com
Tuesday, August 19, 2008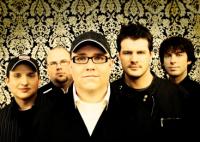 Mike Weaver doesn't really know how he got to where he is today. As one-fifth of Big Daddy Weave, one of Christian music's most endearing bands, he readily admits, "I don't think we've ever known what we were doing."
A bold statement for the lead singer, songwriter and acoustic guitarist of a band that has sold nearly a half million records, released three No. 1 singles and toured with some of the biggest names in the industry since making its national debut over six years ago.
But Weaver insists it has been that simple. "We've always said, 'God, if this is what you want us to do, you have to make it happen. Wherever we go, we'll make it plain who you are—that Jesus is God and Jesus has changed our life."
Expressing the greatness of that change in a musical format comes naturally for the melody-driven quintet. On its fifth release, What Life Would Be Like (Fervent), Big Daddy discovers and explores a new perspective of living, one that engages the miracles of God as not only possible, but real.
"When we went to Ecuador and saw what God was doing through World Vision, it challenged our hearts. We felt like there was not a lot happening through these little dollars that we were giving for child sponsorship. But once we got there, what seemed like a little bit was really changing entire communities in this country," Weaver explains. "We visited one place where the crime rate had literally dropped from 80 percent to 20 percent in just a matter of years."
Returning home self-aware, the band members began to question their own personal doubts and views of God. "The truth is, what we feel like is insignificant. What we feel like is not enough. In the hands of Jesus, He does the miraculous," Weaver professes. "It increased this ability to dream again."
Incorporating the effects of Ecuador into their next creative output, the men based their writing and recording on a fresh reality of God. "I feel like this record is about expectations: our expectations of who God is and what He's capable of doing through the messed up people that we are." The first to admit his shortcomings, Weaver, the band's unofficial spokesman, replaces systematic sound bytes with true confession: "I think we have sold Him so short."
Big Daddy injects the same vulnerability into the title track's opening line: "I wish I was more of a man . . . What if I could fix myself/Maybe then I could get free/I could try to be somebody else/Whose much better off than me." Even Weaver notices the openness of his own lyric. "Listening down the record, I don't know if we've ever said anything that completely honest. I think there's a level of transparency with this record that's deeper than before."
In what has become a mission for the guys, ministry takes first place when interacting with the audience. "We want to be real people in front of real people, as much as you can do that with making music. We're finding out He wants to use what's offstage maybe even more than onstage," the personable front man realizes, continuing to administer the band's priorities of people over music and music over media attention.
"We aren't the coolest looking dudes. We don't have the coolest music there is. Maybe the entire reason we were [at a concert] wasn't because we needed to play this set of radio songs or have this moment of worship as much as it was that one really weird guy that wouldn't leave us alone, and honoring the Lord by taking some time out of [our] day and loving him."
Have something to say about this article? Leave your comment via Facebook below!
advertise with us
Example: "Gen 1:1" "John 3" "Moses" "trust"
Advanced Search
Listen to Your Favorite Pastors