Building 429: Mercury Rising
John J. Thompson, CCM Magazine
Tuesday, March 28, 2006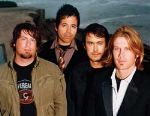 There are few goals – if any – the modern rock band Building 429 failed to accomplish with its major label debut, "Space In Between Us" (Word).

Opening single "Glory Defined" rocketed up the charts in several formats, ensconcing itself as one of the biggest hits of last year and winning BMI's prestigious "Christian Music Song of the Year." The band went on to sell more than 130,000 copies of its full-length debut, score four Gospel Music Association Award nominations, and walk away with "New Artist of the Year." Numerous tours with major names such as Jeremy Camp and Casting Crowns put them in front of thousands of fans, making them one of the biggest stories in Christian music in 2005. ¶
The slick radio-friendly sound of "Glory Defined," however, didn't exactly coincide with the high-energy rock the band delivered at their concerts. Lead vocalist and guitarist Jason Roy recalls numerous examples of the clash between large guitar amplifiers and church sanctuaries. "It became apparent quickly when we went out to play live shows," Roy admits, "that there was somewhat of a disconnect between who we really were as a live band and who we were on the CD. We'd pull up and roll off half stacks (amps) and [discover] they were expecting an acoustic show." Ultimately, though, the response was overwhelmingly positive. "We spent the last two years trying to educate people about who we really are," he continues. "But the more we really went for it, the more people were saying they wished the record was more like that."
Along the way, the band, which also features bassist Scotty Beshears, guitarist/keyboardist Jesse Garcia and drummer Michael Anderson, hooked up with Redeem the Vote, with Roy serving as a spokesman for the conservative evangelical voter activation effort. His work included coverage on CNN, Fox News and other national outlets, earning the band additional exposure and momentum.
"To be brutally honest," he says of the motivation to get involved with the political project, "I think that sometimes we as a church have been off. You know they say to be 'in it and not of it,' but we have been of it, and not at all in it! We've withdrawn and closed the gates. We say, 'No Johnny, don't run for office. Don't become a movie producer.' Lord forbid someone get in a position of power at a network or something. Look, you can sit back and complain about it all you want. But if you're not making an effort to change it, then what good is your complaining doing? We need to grow leaders who can step into those roles who will always stand up for what they know to be true and right."
One individual known for standing up for what he knows to be true and right is recording artist – and one-time Building 429 tour mate – Paul Colman. A year ago, he saw what he perceived to be an injustice, and on Building 429's behalf, Colman took action. He proceeded to call CCM Magazine's editor and express his belief, in no uncertain terms, that Jason Roy & Co. were getting insufficient coverage in the magazine. Mind you, this was even before Building 429 was named "New Artist of the Year." Colman felt so strongly about it, he insisted that, if need be, he would write a big CCM feature on the band himself! This unusual encounter resulted in two things: 1) CCM's editorial team smelled the proverbial coffee, and 2) the magazine locked into Colman's passion for emerging artists and enlisted the future Newsboys guitarist as a contributing editor.
Have something to say about this article? Leave your comment via Facebook below!
advertise with us
Example: "Gen 1:1" "John 3" "Moses" "trust"
Advanced Search
Listen to Your Favorite Pastors