Caedmon's Call: In the Hands of the Potter
Janet Chismar, Senior Editor, News & Culture
Thursday, March 20, 2003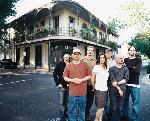 Bragg adds, "We've lived together and have toured for so long that we challenge each other and we know each other's weaknesses and strong points. We keep each other accountable, and so there is a strong bond."
Hanging out on the tour bus can lead to some great discussions, according to Buell. "There are times when we'll just go into hours worth of great, in-depth conversation. I loved - especially back when I was young and I'd just met a lot of them - I loved all that because I heard a lot of viewpoints I had never considered or never heard. I thought it was very cool and I began to respect a lot of the people in the band in that way."
Regarding Derek Webb's solo project, neither Buell nor Bragg have negative words. According to Buell, Webb is "focused on serving the church and felt the need to do that on his own. He was so passionate about it, and we totally supported him 100 percent. We all agreed that it was fine. He's doing a home tour -- he's just going to show up and play and talk, which is great. It's a cool idea."
The Larger Family
Perhaps one result of The Potter's shaping process is a new emphasis on influencing culture. There was a time when the band seemed somewhat critical of the church and Christian culture. "But now we're trying to write for the church rather than at the church," lead vocalist/guitarist Cliff Young has said.
Buell clarifies: "We never wrote against the church.  Against the Christian culture - as in the subculture, the box - yes. When I was growing up and went to high school and to church and to Wednesday night Bible Study, a lot of what I was presented with at that time, it didn't really hold true after I got out of school. That led to a lot of confusion and unanswered questions, kind of like potholes."
It wasn't until Buell met the band and was affected by its members "and what they had, and some of their viewpoints, that I really opened up to a whole new perspective of the Bible."
He says they all now try to offer hope and accountability to college kids who have left home and experience similar struggles. "I think we all wrestle with the same kind of things; I think everybody does when they are growing up."


Bragg notes that while Christians are not called to condone the world, "Christian culture spends a lot of time condemning the world for being the world, and Christ never did that. Christ only condemned the religious faults of the time, and as Christians, we're called to keep our Christian brothers accountable."
According to Bragg, Christians need to learn how to think for themselves and question what is being taught from the pulpit. "Just because their pastor is teaching it, doesn't mean it's the Gospel. You've got to hold Scripture as the ultimate authority." 
Have something to say about this article? Leave your comment via Facebook below!
advertise with us
Example: "Gen 1:1" "John 3" "Moses" "trust"
Advanced Search
Listen to Your Favorite Pastors