Casting Crowns: Casting's Call
April Hefner, CCM Magazine
Tuesday, October 02, 2007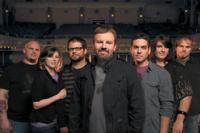 Blessed is the man
Who does not walk in the counsel of the wicked
Or stand in the way of sinners
Or sit in the seat of mockers
But his delight is in the law of the Lord,
And on his law he meditates day and night.
Psalms 1:1-2 (NIV)
While CCM rests its acronym on "Christ. Community. Music.," it's a rare day for a story to open with something as blunt and straightforward as Scripture. These stories, after all, are intended to entertain and inspire you, not preach.
But frankly, there's no better way to introduce the next few pages, no better way to get at the heart and soul of what Casting Crowns is all about. You see, Casting Crowns simply isn't your typical CCM Magazine cover band. Sure, the group sells millions of CDs in an age when most artists are thrilled to break 100,000. Plus this seven-piece act zooms to the top of Christian radio charts faster than a speeding bullet, causing Nashville label promoters to shake their heads in awe and wonder. And, of course, Casting Crowns tours with everyone from its musical heroes (Steven Curtis Chapman), to top writers and critics' darlings (Chris Tomlin, Nichole Nordeman), to the hottest new acts to hit the scene (Leeland), all while scoring award nominations in the double digits.
Still, despite the numbers and the accolades, primary writer/front man Mark Hall and the rest of the Casting crew will be the first to laugh at any notions of impending rock stardom. They are, they counter, merely following a clear calling for this season of life, however long it may last.
"You hate saying it, but Casting Crowns isn't our priority," says keyboardist/vocalist Megan Garrett. "Our priority is to our churches and to our families. God's made it so obvious that Casting Crowns is something He's doing, and we know it's not going to last forever. It's just something we're doing right now, and we're giving 110 percent to it. We didn't try to do this. It's something God has moved into place and made possible."
And this group believes God has made the band's success possible for a specific and uncommon purpose. Mark and Megan along with guitarist Juan DeVevo, violinist/vocalist Melodee DeVevo, guitarist Hector Cervantes, bassist Chris Huffman and drummer Andy Williams are convinced the divine lead they are following is merely a musical extension of their day jobs. While other artists concentrate on crafting the newest sounds, perfecting the hippest image or crossing over to impact the mainstream, the men and women of Casting Crowns—all with deep roots in youth ministry—focus on an unlikely goal for Platinum-selling, chart-topping musicians: discipleship.
Walking through the Open Door
From the church, to the church, for the church … those phrases show the origin, direction and mission of Casting Crowns, leading us back to the verses that opened this piece. While the band's self-titled debut encouraged believers to reach out to those in need with tracks like "If We Are the Body," and sophomore disc, Lifesong, celebrated what God is doing among his people, Casting Crowns' newest CD shifts attention to difficult pitfalls in the Christian life, challenging listeners to deeply examine their own relationship with Jesus.
The first verses of Old Testament Psalms form the backdrop for the primary theme behind the band's newly released album, The Altar and the Door (Beach Street). Hall explains how the picture painted in Psalm 1 portrays the temptations of a slow fade of faithfulness, from walking to standing to sitting. Though the verses describe a man who is blessed, the implied alternative presents "someone who doesn't walk with God and gets everything he believes from other people. You experience a slow, gradual change because you weren't delighting in the law of the Lord. You weren't walking with Jesus; you were walking with people, and people are messed up."
Have something to say about this article? Leave your comment via Facebook below!
advertise with us
Example: "Gen 1:1" "John 3" "Moses" "trust"
Advanced Search
Listen to Your Favorite Pastors