Casting Crowns: Casting's Call
April Hefner, CCM Magazine
Tuesday, October 02, 2007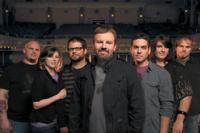 The only way to know God is to invest time in the Bible and discipleship. What Mark and his fellow youth ministers see, however, is a Christian culture comfortable with following people, rather than the Creator.
Mark explains, "The crux of the whole thing to me is an individual friendship with Jesus. Otherwise, you just have audiences sitting in chairs enjoying Mark's walk with God. You can't ask Mark into your heart; you can't ask Megan into your heart. Kutless can't go home with you and sing to you in the morning. You've got to have something on your own.
"The biggest thing I want our fans to be drawn to are the Scriptures and statements listed below the songs in the liner notes. A song can change your afternoon, but the Word can change your life… Preachers are great; music's great; books are great; but it needs to be you and God. You've got to delight in the law of the Lord. You've got to meditate not on Casting Crowns but on what God says to you."
Walking Out Forgiveness
Delighting in the law of the Lord ultimately starts with understanding our need, with glimpsing the essence of grace. Casting Crowns' new radio single, "East to West," focuses on a concept central to salvation, what many call the most basic building block of faith: forgiveness.
I know you've cast my sin as far as the East is from the West / And I stand before You now as though I've never sinned /But today I feel like I'm just one mistake away / From You leaving me this way
"A lot of us have been sold this idea that you need to be a Christian to be happy, that Christianity will improve your life," says Hall. "Instead, the reality is that we're lost. We need Jesus because we're lost without Him. I've earned the deepest pit with the hottest fire and the heaviest chains. I see forgiveness as God giving away His right to revenge in my life. He loved me so much that He's choosing to remember that against me no more, all because of Jesus.
"We feel we're supposed to be past forgiveness now. We want to talk about millennial views and predestination and deep stuff. We feel we're supposed to know about forgiveness already. We act like everything's fine, but this is one you can't skip, you can't move past."
Garrett agrees: "It's hard for me to wrap my brain around forgiveness. We're not really good at forgiving. We say we've forgiven someone, but then every time you see that person, it still really, really bothers you. It makes it hard to imagine God not responding the same way to me. Grudges are so big in our minds and our hearts, and it's amazing to me to think of the ability of God to love us no matter what."
That unconditional love often has a way of reproducing itself, as evidenced by the familial ties that exist within Casting Crowns. From the band members themselves to spouses and kids to road crew to management, label and business partners, everyone connected to the band plays a vital role in their ministry. This is a dedicated and tightly-knit group, one that elbows and teases one another around the lunch table while sharing any number of inside jokes. More importantly, this is a band that cries together, worships together and lives out life together.
In the past five years, these seven have experienced more together than they could have ever imagined. So what comes next? Don't ask. Just wait and see.
Hall concludes, "Any time I've ever gotten messed up in life is when I've decided where I'm going to be in five years. I'm not going there. Will we still be singing? Maybe. I could never have dreamed this up, so I don't know what comes next. I'm just going to keep following God."

© 2007 CCM Magazine. All rights reserved. Used with permission. Click here to try a free issue.


Have something to say about this article? Leave your comment via Facebook below!
advertise with us
Example: "Gen 1:1" "John 3" "Moses" "trust"
Advanced Search
Listen to Your Favorite Pastors