Casting Crowns: Real Life Conversations
Melissa Riddle, CCM Magazine
Tuesday, October 18, 2005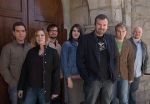 But make no mistake, the band says, none of it came from them.
I want to sign Your name to the end of this day
Knowing that my heart was true
Let my lifesong sing to you …
"When something happens in your life, and you know full well that there's not a single thing you did to make it happen, and you're not good enough to make it happen, much less keep it happening," Mark Hall says, "you just know that for some reason God wants it to be right now. You just bloom where you're planted. You just do it until the next thing comes."
It's just like his day job, student ministry, he continues. "I never had a resume. You just go when you're going like you're never going to leave, and you just love on people and give it everything you've got until God gives you something new."
And be prepared, he says, for the fact that "He may not."
"I went through a little weirdness right before we started recording "Lifesong," and we had some neat talks with Steven Curtis [Chapman] and with [Third Day lead singer] Mac Powell, just about the pressure stuff. And there came a point when I just had to lay that down and just do it. And even if not, I'm still speaking this Wednesday night to my kids back home."
"Lifesong," like the debut album that precedes it, finds Hall and Casting Crowns focused on the same truth-can-be-a-tough-pill-to-swallow message:  There are broken people within arm's reach of the church, and if there is any hope of healing, it begins with people who will be the hands and feet of Jesus. Not unlike "We Are the Body," with its confrontational tone toward the church, new songs such as "Stained Glass Masquerade" and "Does Anybody Hear Her?" prick consciousnesses and seek to change hearts.
Mark Hall's lyrics are every bit as powerful and beautiful and pointed as before, and if some choose to believe that the music of Casting Crowns simply "preaches to the choir," then so be it. Doesn't the choir need to hear it?
"That's a misconception a lot of people seem to have," says Hall. "How can writing songs that challenge the church, songs that ask Christians to consider their actions, be a bad thing? After all, it's the message that matters, not the labels that exist in the Christian music industry or even the biases shared among Christian music fans. Every Christian artist has a ministry – within and outside the church – and each one is important.
"Christian music is a good picture of what the body of Christ is like," he continues. "Different artists working in their gifts, working where their passions are. Everybody is passionate about what they do, about what they feel called to, so for one to say the other's ministry is more or less meaningful or spiritual or anything is ridiculous.
"There are way too many walls in Christian music. A lot of my friends are saying we're walled into worship, but if you ask me, we're all worship bands. Worship is a totally different thing, really. And everything we do is worship, so it seems like a lot of these walls should come down. I think the closer you get to Jesus, the more you start seeing that everybody has a ministry that they need to do. You just gotta be careful when you're out there not to look at the others as though they're not in ministry because they're not in your ministry."
For Casting Crowns, ministry is not about preaching at all, but about talking about and walking through the stuff of life.
"I think people listen to you if you're transparent," Hall says. "If you say, 'This is where we all live,' then you can talk about the hard things. People want to hear the truth. You just hang around church for a while, and you'll see. People don't want you to talk around it. They want you to tell it like it is, even if it hurts. We're not talking about a bunch of new stuff; we're still talking about pain and other things where people really live. And we're still trying to live out what we're singing about."
Have something to say about this article? Leave your comment via Facebook below!
advertise with us
Example: "Gen 1:1" "John 3" "Moses" "trust"
Advanced Search
Listen to Your Favorite Pastors