Chris Sligh: Proud to Be an American (Idol)
Kevan Breitinger, CMCentral.com
Wednesday, May 28, 2008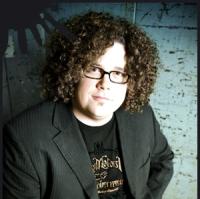 Chris Sligh is more than just your next "American Idol" alum. His brand-new album, Running Back to You (Brash), is receiving critical acclaim, and you are more than likely hearing his hit single, "Empty Me," on the radio these days. But for now, Sligh gets confessional as he reveals his thoughts on the music industry and his picks for this season's "Idol."
CMCentral: You've had the most interesting career trajectory of anybody I know. What's been the most surprising element of it for you?
Chris Sligh: I guess the most surprising thing for me was making it past the first audition of "American Idol." Here I am almost two years later, after my original audition, talking to somebody from the one website I used to keep up with.
Man, you gotta know you can sing! With the voice and the range that you have, you were that surprised to go that far?
What you guys don't see from home is that there are 10 to 15 thousand people in the arena. Being there, you see really great people get cut again and again. I went two years in a row and got cut at the very first audition. So when I tried out this last time, I did it just because a friend of mine said, "This is your last year to try out now that you're 28. I think you'll always regret it if you don't try out. I'll pay for you to go down." So you know, I thought, "It's only one day. If I don't make it, at least I had a good time with my friend. Maybe I'll get to meet someone who does make it onto 'American Idol.'" The first year I tried out, I met Bo Bice in Orlando in my first audition. But this time it turned out that I was the guy that somebody met (laughing).
Is there anything that you wish you'd done differently, Chris?
In the semi-finals I wish I had sung songs that people knew a little bit more. If I have a regret, which I don't know that I do, but if I do, it's that. But what people don't understand from watching at home is that every song has to get cleared by the publishers and the artists. I wasn't really planning on doing the MuteMath song, but it was the only thing, literally, that got cleared. I put a list together of songs that maybe weren't as well known, but the only songs that got cleared were the most obscure ones. It's kind of weird the way it worked out.
I can see why you did as well as you did because your range is so huge. What kind of vocal training do you have?
It's kind of funny how I got involved with music. I was actually—all through high school—a basketball and baseball player. I was kind of a jock, very typical, kind of arrogant and on top of things, made the All European team every year (We lived in Germany where my parents were missionaries). So especially in high school, I never really did anything with music. It just wasn't on my radar. I had written a couple songs that my dad and I sang in church, but I never sang lead. I always sang harmony with my dad, which I loved.
My freshman year of college I was walking down the hall humming Michael English's "Holding Out Hope to You" from that album so long ago. And a guy walked up to me and said "Hey, were you just humming Michael English's 'Holding Out Hope To You'?" And I of course said, "No, not at all" (laughing), because at my college you could get in trouble for that. And the guy said "Oh, I'm not trying to get you in trouble. I'm starting a singing group and wondered if you'd like to be in it." So I tried out for the group, made it and ended up being the lead singer by the end of that first year. And I liked it so much I ended up changing my major to music. I studied classical voice and was the understudy for two operas. I was invited to audition for the Met in New York and was going to go the opera singer route for a long time. But then I discovered rock & roll.
Have something to say about this article? Leave your comment via Facebook below!
advertise with us
Example: "Gen 1:1" "John 3" "Moses" "trust"
Advanced Search
Listen to Your Favorite Pastors