Chris Sligh: Proud to Be an American (Idol)
Kevan Breitinger, CMCentral.com
Wednesday, May 28, 2008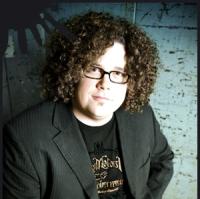 Was this at Bob Jones?
Well, the first college I attended was Pensacola Christian College, but then when I changed my major to music, I transferred to Bob Jones University because they had a better music department.
Their music program is solely classical. … Classical music is OK, but anything with a "rock beat" is considered sinful. I'm sure you heard the story of how I got kicked out with seven credits left to graduate for going to a 4Him/FFH concert.
Yeah, well, it's part of your story—what made you who you are. And who you are is what won the heart of the audience for you apparently. People really responded to your personality as much as your talent.
I've got one of those personalities that people don't really know how to react to because I'm like the guy next door to a lot of people. I have fans tell me all the time that they can't believe how real I am. I guess some people have a rock star persona that helps them sell a lot of records, but to me, I'm just a normal guy who happened to be a little bit more talented than normal in one area. So I get to do what I love for a living, but besides that, I'm just a normal guy. I've told several people along the way, if I ever start thinking I'm a big deal, just slap me upside the head.
Absolutely, put you out of your misery.
Well, my wife is very much about keeping me down to earth.
Good for her. Now I read that you signed with Brash Music because they'd let you write the record you wanted to make for the church, but you could also reach mainstream audiences? Is that the case?
Brash is a mainstream label run by believers. I actually was looking at a variety of labels, from mainstream major labels all the way down to Christian indie labels. I knew that I wanted to do something for the church, I knew that's where God was calling me. I feel like there's this line in Christian music today where you're either Casting Crowns or you're Switchfoot, and one of them is cool and the other is not. My heart is I want to be both.
I want to write songs to the church, and for the church, and be very open about my faith; but at the same time I want to write a love song, or a song a little bit more vague lyrically. And I don't think that God makes that delineation between our secular life and our Christian life. As a believer my life is all the same thing; it's all worship. I can worship in a love song just as well as when I'm singing, "Holy Is the Lord God Almighty."
That's what Romans 12:1 is saying.
I think of myself as more of a songwriter than a singer, and I work so hard at my songwriting and think it's come a long way over the years. I want to talk about my whole life in my songs. I met with the president of one label, and the first thing he said to me was, "So … how Christian are you?" I said, "I don't know. I guess I still sin every now and then, so like a 7?" (laughing). He said they weren't really interested in putting out Christian music.
The more I thought about that the more I realized if I signed with them I'd be cutting off this huge part of my life that I couldn't then talk about in my songs. On the other hand, as I talked to the Christian labels, they only wanted me to write about Christian things. Brash just really caught my vision for what I wanted to do.
Right now there are a bunch of new artists coming out who are similar to me, like Meredith Andrews. Her new record is just incredible, and she's just singing about life. Same thing with Tenth Avenue North. I'm hoping that we see more people doing that. Because I miss the days of Michael W. Smith and Amy Grant who were making Christian records but had songs on them that crossed over into other areas of life. I explain it like this: I did not make a crossover record. I made a record for the church. But I have songs on it that cross over. And when a non-believer buys this record, they are going to get a very clear presentation of my faith, and that excites me.

Good for you. It can only help us as a genre. We need people to help drive us forward into the public arena where we're supposed to be.
Have something to say about this article? Leave your comment via Facebook below!
advertise with us
Example: "Gen 1:1" "John 3" "Moses" "trust"
Advanced Search
Listen to Your Favorite Pastors