Chris Tomlin: Morning Glory
Beau Black, CCM Magazine
Thursday, December 14, 2006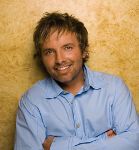 Chris stayed there for five years, playing 150 dates a year and also doing another one-year stint at Breakaway, which, by then, was meeting in A&M's new basketball arena, the only venue that would hold it.
The first song that hinted at what was to come was one he penned at a camp with Louie Giglio: "We Fall Down." "That would've been around 1995," says Chris. "I wrote it just for the folks at the camp to sing around what [Louie] was talking about." In reality, Chris wrote a song that would find a home in churches all over the world. And Giglio would go on to become his mentor and record label chief.
Chris signed with Giglio's start-up, sixsteps Records, in 2000 and, over the next five years, released three studio albums and a live CD to increasing acclaim, establishing him as a foremost writer of modern worship.
Remember that medical career Chris Tomlin was interested in? Well, his new album, "See the Morning," which released earlier this fall, should forestall that a bit longer. Packed with more of the modern worship anthems that are his signature and one of the year's quickest-rising radio singles in "Made to Worship," it seems ready to repeat the trajectory of his previous record.
Chris has also been asked to contribute a song for "Amazing Grace," a motion picture releasing early next year about the life of William Wilberforce, who led the movement against slave trade in Britain. "[Wilberforce] was influenced by his friend John Newton, who wrote the song 'Amazing Grace' and was a slave trader," says Chris, who was given the daunting task of writing an extra part to the hymn for the soundtrack. "At first, I said, 'No, you don't mess with that.' And, then, God got me thinking about slavery, and these words just came out – 'my chains are gone. ...' It's very close to my heart. I went and did some research – that last verse, "when we've been there 10,000 years," was added later once people started singing it ... it's not in his original poem. I found the original last verse [and reinserted it]."
Today, touring and recording consume much of Chris' time. But he's also made time for his life in Austin. Part of that is Austin Stone Community Church, which he helped found. "One of the values of our family record company, sixsteps, is being in a local church.  That's been a strong value for us, so we're not just out there traveling around doing our concerts, but not really being connected and accountable. It's been important to me to be leading [worship] at a church as well."
By 2002, Chris was already traveling hard with his band, but he says the timing was right. "In Austin, the opportunity for the kingdom of God is so open – it's so ripe. And we wanted to plant a church that was downtown and pull from the University [of Texas]," which enrolls nearly 50,000 students. "We barely knew what we were doing at all, but it continues to grow like crazy. It's on a top 100 list of fastest growing churches in America. We want to be accountable and not just going, but leading when we can," he says.
His schedule's a bit more complicated now than in 2002, so the church added another worship pastor with whom Chris trades off leading. But he says the church body of 1,500 or more packed into Austin High School keeps him "grounded in the right way." However, it's also been a challenge.
"Austin, in general, has such an aversion to anything like Christian values and the Scripture. The really vocal people in Austin are really speaking out against that; it's a very free-spirit, hippie, liberal city. 'Knowledge is king. We've been enlightened.' But, you know, on the University of Texas' tower, it says, 'You shall know the truth, and the truth shall set you free [John 8:32]," which he takes as a sign that all is not lost.  
Have something to say about this article? Leave your comment via Facebook below!
advertise with us
Example: "Gen 1:1" "John 3" "Moses" "trust"
Advanced Search
Listen to Your Favorite Pastors