Chris Tomlin: Morning Glory
Beau Black, CCM Magazine
Thursday, December 14, 2006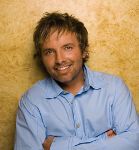 "It's definitely not a God-forsaken place, but it is a party town," he says. "Jesus would love to hang out in Austin. There are so many down and out and a huge homeless population and lots of people who've been burned by religion. That's why we want to be there. [It's] wonderful to come to church on Sunday and see the different faces and different races. ... We feel like we're doing something special here."
Chris may be able to live a normal life in Austin more easily than he might in Christian music-centric Nashville. "On a typical day, I love to work out. Usually at 9:00 or 10:00 in the morning, I like to go to the gym or go play tennis – find some buddies to play. Go get lunch or dinner with friends and talk about life over chips and salsa and Tex-Mex and iced tea. I love to be outside, love to be active. I'm not good at being inside," he says.
"I have a chocolate Lab named Lucky that hangs out with me when I'm at home. You'll find me driving around town in my Ford F-150 truck. I love to go hear music." And Austin – dubbed "The Live Music Capital of the World" – is conveniently home to a lot of it. He cites blues and rock artists Seth Walker and John D. Graham, whom Chris describes as an older rocker who "plays like he just got his guitar, like he's 16. It's the loudest guitar in the world. Those guys play with so much passion. … I love to see that. There are always good singer/songwriters coming through here."
And dating? "I want to have time for it, but it's hard with my schedule. That has been the part of my life I haven't figured out yet. It's frustrating."
Both Chris' work with Giglio's Passion conferences and his student-heavy church in Austin focus on the college crowd. But, over the last year, that's begun to change. "We want to reach everybody. Our mission statement says 'anybody who breathes.' When I write songs, I try to write in a way to reach as many people as I can, to be a lighthouse versus a flashlight – a sweeping light that sweeps over a lot of people, versus a flashlight that's very focused. I pray that. Only God can do that."
And, with the response to "Arriving," his audience is broader now, "which I've enjoyed," he says. For the last tour, "it was moms and dads and their kids and the college students – versus just college students or high school youth groups. We seem to be reaching, through the success at radio, even more than people in their churches recognizing my songs, where, in years past, I've been kind of chasing my songs around. People would have no idea I'd written these songs. [But now] people seem to be connecting the dots. I'd prefer that – that we're chasing the songs rather than it being about my personality or our sound.
"I'm realizing how God uses people to advance His plan – all through Scripture – and I want to be one of those people. As a 13-year-old kid, I prayed that and said, 'Whatever You want, for the rest of my life.' If people look at me as someone with name recognition? As Paul says, 'Follow me as I follow Jesus.' I want to be like that – to be someone God can trust. I want to do that every night we play. I want people to leave thinking 'God, I want to know You more,' not 'Chris is cool,'" he says.
"I'm so proud of how Chris has handled the 'success,'" says Gregg Matte. "The reason that he has remained so humble is that he knows what true success is. Leading thousands is not the best measure of success.  His life is more powerful than his music, and that is what Christ wants.  I've been with Chris when he has led 50 and 50,000, and he is the same guy – a guy who just wants to know Jesus and make Him known. I'm glad to call him friend."
So looking back over the last year, what's Chris proudest of? "What I'm humbled about – the opposite of that – are these little simple songs that are being sung around the world," he says. "That's bigger than any hit song on the radio. Maybe some of these songs, long after I'm gone, people will be singing them. In Africa, or South America, or Europe – you go and hear people singing these songs. It's incredible. That seems to be the most amazing thing to me – that God could use these songs in a way that's so much bigger than me, than a marketing plan and a publishing deal."


© 2006 CCM Magazine.  All rights reserved.  Used with permission.   Click here to subscribe.




Have something to say about this article? Leave your comment via Facebook below!
advertise with us
Example: "Gen 1:1" "John 3" "Moses" "trust"
Advanced Search
Listen to Your Favorite Pastors