Chris Tomlin: The Man Behind the Music
Janet Chismar, Senior Editor, News & Culture
Wednesday, January 15, 2003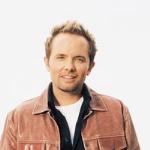 I guess God has given me a gift and I want to use that and not be lazy, but to really be disciplined to continue to write songs.  I want to say things that help people express their love for God, their devotion for God, their need for God, in the church.  And then, as a band, we want to grow more together--I hope that in five years I'm sitting around a table with the same guys.  We love to travel, but we want to find a balance and not neglect our home life.
I'm also helping to plant a church in Austin, Texas, and so I want to see in the next five years this church make a huge impact in that community in Austin.  That's a big deal to me.
Crosswalk.com:   What influences have shaped your songwriting?  You have written so many great songs of such depth.  Where do you draw your inspiration; how does that process take shape?
Chris Tomlin:  I've been writing since I was a teenager and I think the Scriptures are the number one thing that has the most influence.  I'll just see something in Scripture, like for "We Fall Down," it was Revelation 4.  Psalm 136 really influenced "Forever" and Psalm 19 influenced "The Famous One."
But another big influence is the people God has surrounded me with.  Jesse, my bass player, really helped me write these songs.  I'll have a thought about a song and he'll help me finish it.  He helps me focus a song and finish lyrically.
And then sometimes I get inspiration from simple things.  Louie Giglio will usually send me some idea from his journal, like when he said, "Here's a thing I was writing down in my journal.  See if this stirs anything in you:  that all of you is more than enough for all of me for every thirst and every need," which became the song "Enough" on our record.  I think as a songwriter, you need to be aware of everything around you.
But for me, it really comes back to Scripture.  Our new record, Not to Us--I mean that whole theme was Psalm 115:1--"Not to us, oh Lord, not to us, but to your name be the glory."  I see these things and I try to think of a simple and creative way for people to sing them.
Crosswalk.com:  I think you do a great job of that.  Getting back to your walk a little bit, how do you stay grounded when you are on the road?
Chris Tomlin:  Again, it comes down to those people that God surrounds me with.  I have a Board of Directors that have set up some guidelines for us as a band, to pray together constantly, to be in a Bible study together.  Right now I'm going through the book Wild at Heart.  That's a thing I'm doing personally.  But as a band, we try to pray together before we play every night, to say, "Hey, what's going on and is there anything we can pray for in each other's lives back home?"
I think growing up the way I grew up, it's pretty easy to stay grounded.  I grew up in a very small town, with a very good family.  I didn't grow up with a lot of hype or anything like.  I wasn't a city boy, so I have pretty strong roots--kind of down home roots, I guess.  I think that keeps me pretty humble.

Click here for more info about Chris Tomlin.  
Have something to say about this article? Leave your comment via Facebook below!
advertise with us
Example: "Gen 1:1" "John 3" "Moses" "trust"
Advanced Search
Listen to Your Favorite Pastors