Citizen Way Q&A with Ben Calhoun
Ryan Duncan, Crosswalk.com Entertainment Editor
Tuesday, May 14, 2013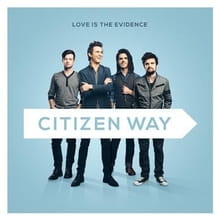 I've been told some of your songs have stories behind them. Could you give me an example?
Should've Been Me, Luke 23:41-43; Ephesians 2
A true story of when I was leading worship at a camp and we asked the kids what all they had learned from the week. During the camp we had taken them on a crash course from Genesis to Revelation and the stations of the cross. I'll never forget, there was a kid there who responded and simply said, "I learned that it should've been me." I thought, what a pretty profound thing for a 13-year old kid to understand the gravity and weight of what Christ did for each of us on the cross. It really moved me and this song came from that conversation.
Fall Like Rain, Lamentations 3:31-33; Psalms 23
Was written for our friend Wendy who went to be with Jesus at 19 years old. Wendy had asked us to play at a missions fundraiser, but a few days before the event she was killed in a car accident. Instead of doing the fundraiser, the church held a memorial concert in her honor. I wrote this song and sang it at the memorial.

What are some ways God has blessed your music?
I'm being completely honest here there is nothing we've done that was done without the hand of God orchestrating it all. The things we've done on our own strength didn't amount to much and what success of failure they had were still used by the Lord in ways that only He can. Particularly, we try to take every opportunity to point people to Jesus through the truth of God's word. The Bible says in Isaiah 55:11 "my word that goes out from my mouth: It will not return to me empty, but will accomplish what I desire and achieve the purpose for which I sent it." When we walk with Jesus and sing songs inspired by God's word it then becomes the work of the Lord and we simply get to be a part of it. That's the blessing. It's more fun that way too!

It's safe to say Citizen Way is a Christian band. How else has your Christian faith impacted your music?
Yes and we're very proud to serve in the Christian music family. We all grew up in Christian music, it's part of who God made us to be. Everything we do as a band is filtered through the lens of Micah 6:8 that says "do justly, love mercy and walk humbly with your God." As we've done that, this is where He's led us. It's way better than wandering through a career on our own.

Was there anything God taught you while making this album?
Rom. 12:2 "Be joyful in hope, patient in affliction, faithful in prayer." As Christ followers, with our platform, we have the responsibility to represent Jesus and what the Bible says. We've been together as a band for quite some time now and if we continue to live by verses like this we'll be alright. We also learned, again, how awesome our families and friends are. They each have a brick in CITIZEN WAY's foundation with their name on it!

What is the one thing you hope listeners take away for this album?
John 3:16 "for God so love the world..." That's the best thing we could hope for; to have people respond to this verse through whatever we do as a band.

I hear you are touring with Big Daddy Weave, what was that experience like?
Stellar. Amazing. Memorable. Awesome. One of a kind. Sincerely, it's been transformational. We've been out on this tour for 3 months with BDW, Chris August and MIKESCHAIR. We drove something like 65,000 miles, killed and our van in Montana! We saw some beautiful parts of the country and we made friends everywhere we went. We prayed with people in the front of the stage at the end of every night and saw God at work. We struggled with no sleep and long hours in the van and our families were stretched and strengthened in new ways. We look forward to going out with these guys again!!
*This Article First Published 5/14/2013
Have something to say about this article? Leave your comment via Facebook below!
advertise with us
Example: "Gen 1:1" "John 3" "Moses" "trust"
Advanced Search
Listen to Your Favorite Pastors