City on a Hill: A Farewell Gathering
Thom Granger, CCM Magazine
Friday, January 23, 2004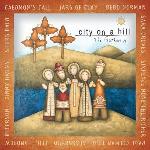 While Christian compilation albums have become popular in the past few years, thanks to the success of the "WoW" series, few really featured songs that united artists to work as a community toward one project and often the same songs ... until a little side project from Essential Records in 2000 debuted. After "City on a Hill — Songs of Worship and Praise" released to critical and commercial success, "City on a Hill — Sing Alleluia" and "City on a Hill — It's Christmastime" followed.
Now on the final and fourth album in the series ("City on a Hill — The Gathering"), "City on a Hill" has become synonymous with partnering "thinking" artists on compelling, intellectually stimulating songs. Not only did cross-label collaborations and offerings from traditionally "non worship" artists such as Third Day, Caedmon's Call, Jars of Clay, Leigh Nash and Nichole Nordeman catch some attention, but a "little" song called "God of Wonders" helped blow open the doors to acceptance and international recognition of the series.
So why stop now? "You don't want it to become factory work, do you?" offers songwriter and producer Steve Hindalong to the inevitable question posed.
"All of these were different in theme but linked in concept and the passion with which they were executed. I didn't think I could sustain that any longer, and I didn't want to impose on the artists in a similar way," explains Steve. "It feels like we've done what we were supposed to do … at least for now."
Hindalong and Derri Daugherty (his partner in the modern-rock band The Choir) laid the foundation the "City on a Hill" series would be built on with their ambitious, if scarcely heard, project "At the Foot of the Cross" in 1991. Recorded for the group's own Glasshouse Records, it featured a group of artists better known in Christian rock circles, who performed original material in musical settings far different than the average praise & worship album.
"That was a great experience for us — particularly for me as a songwriter. It was like taking on a discipline, an assignment — like writing a paper on the four Gospels for seminary. It caused me to dig into the Scriptures in a way I hadn't before, and I found myself really drawn to Jesus in a way that was very good for me. It's also one of the reasons I've had a longing ever since then to be involved with something similar."
A second volume of "At the Foot of the Cross," resonating with Easter themes, was released in 1995. That project was the first fruits of Hindalong's and Daugherty's influence in the Nashville Christian music community, featuring more high-profile artists from the Word label roster. Though not markedly more successful than its predecessor, it nevertheless created an opportunity for Hindalong to get out of his southern California comfort zone and work with a group of artists who varied greatly — even from each other.
A few years on, Hindalong approached then Essential Records President (now Provident Label Group general manager) Robert Beeson (for whom Hindalong had produced one of the label's early bands, Uthanda) with the concept for "City on a Hill," which was originally conceived with the title "Holy Communion." Though some of the lyrics proposed were occasionally questioned by everyone from label execs, to artists, to managers and the like, the project was completed and released in August of 2000.
That's when things really got interesting. "City on a Hill — Songs of Worship and Praise" was not only well received but afforded Hindalong and co-producer Marc Byrd (formerly with Common Children and now of GlassByrd) with the greatest successes of their respective careers to date, including a No. 1 song ("God of Wonders"), a No.1 spot at the top of the Worship charts for the album itself and a Dove Award for Special Event Album of the Year.
Have something to say about this article? Leave your comment via Facebook below!
advertise with us
Example: "Gen 1:1" "John 3" "Moses" "trust"
Advanced Search
Listen to Your Favorite Pastors