"City on a Hill: The Gathering" - Music Review
Brian Quincy Newcomb

Music Reviewer

2003

17 Dec

COMMENTS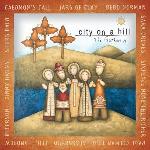 Artist:   Various
Label:  Essential Records

While the current fascination with modern worship has flooded the market with many of the same songs recorded by different artists, the continuation of producer Steve Hindalong's "City on a Hill" series is a welcome alternative. Whether drawing on ancient liturgy ("Kyrie Eleison"), serving up past classics with relevance ("Come Thou Fount of Every Blessing") or creating new hymns that seem destined to pass the test of time ("Table of the Lord"), The Gathering is a true celebration.

Featuring a stellar cast on what will be the final chapter of the series, Hindalong and co-producers Marc Byrd and Derri Daugherty weave together the talents of a diverse selection of artists with more interesting collaborations, most notably Sixpence's Leigh Nash and Bebo Norman's gorgeous duet on "Beautiful Scandalous Night." Richly orchestrated but not overpowered or busy, "The Gathering" makes worship both intellectually satisfying and emotionally stirring.


Copyright © 2003 CCM Magazine.  All rights reserved.  Used with permission.   Click here to subscribe.