Coffee Talk with JJ Heller
Ashleigh Slater
Monday, February 25, 2013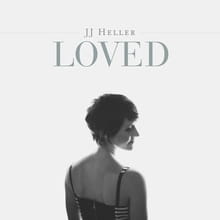 "That crunching noise was me sitting on my favorite sunglasses. This is why I don't buy expensive ones," reads a recent Facebook status from Phoenix-based singer and songwriter JJ Heller.
One doesn't have to peruse Heller's Facebook page or read her Twitter feed long to sense that she's approachable, down-to-earth, and has a great sense of humor. And it's this "realness" that characterizes her music, endearing listeners over the past few years to hits including "Your Hands" and "What Love Really Means."
Heller kicks off these early months of 2013 with a new album, a new tour, and from the sound of her Facebook page, a new pair of sunglasses. She recently took the time to chat with me via email about her latest project, Loved, and how it differs from what she's done in the past.
Tell me about your new album, Loved. What inspired it?
It's natural for me to dwell on regrets of the past, or fixate on worries of the future, so this album is a reminder to see beauty in the present moment. And when the present moment doesn't hold much beauty, we can find hope in the knowledge that the Lord will one day redeem every heart-break. I'm learning that the degree of my contentment lies in my perspective, and that every morning I'm given a choice between fear and love.
For me, the song "Who You Are," brought to mind a description of Aslan in The Lion, the Witch, and the Wardrobe. C.S. Lewis writes, "'Course he isn't safe. But he's good." How does this idea that Lewis touches on express itself in this project?
C.S. Lewis might be my favorite author of all time. His insight about the Lord being unsafe, but good is a profound truth that brings light into the darkest situation. There are many times in life when I can't understand why God would allow such suffering and tragedy, but it's in those times that I can look back in my own life and see His faithfulness. I can open my Bible and read story after story of deliverance, and read verse after verse about God's character. I've heard it said that God answers our prayers exactly how we'd ask Him to... if we knew everything He did.
Musically, Loved veers away from the folk-pop sounds listeners have come to expect from you. What prompted you to try something different?
It's always tempting to keep making the same kind of music because it's comfortable and it's what people expect. But if art isn't growing and changing, then it's dying. With this in mind, my husband, Dave, and I decided to take a risk and we couldn't be more pleased with the result. With the help of our producers, Ben Shive and Cason Cooley, we created sonic atmospheres relying heavily on percussion, strings, keys and electric guitars. While the songs are less acoustically driven, they still maintain the grounded, intimate nature that's so important to me. I'm curious to see how people respond. I hope they love it as much as I do!
What was your favorite part of the recording process this time around?
The collaboration of the studio is always a special experience for us. Before recording each song, Dave and I would run through it with an acoustic guitar. Then the brainstorming would begin! Ben would make up a genius part or two on the keyboard, and Cason would start experimenting with different drum grooves. After only a few minutes the song would start to come alive and I couldn't help but smile. It felt like magic every single time.
Have something to say about this article? Leave your comment via Facebook below!
advertise with us
Example: "Gen 1:1" "John 3" "Moses" "trust"
Advanced Search
Listen to Your Favorite Pastors