Dart to the Heart
Beau Black, CCM Magazine
Tuesday, August 02, 2005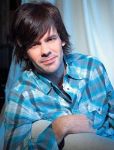 What's wrong with the world?
Most of us would answer "violence and sex in the media," "decline of moral standards," "terrorism and violence in the Middle East," or maybe a hot-button political issue (gay marriage or abortion). However, artist and teacher Shaun Groves has arrived at a different answer, declared in track one on his new album: "I'm What's Wrong With This World."
The lead track from "White Flag" (Rocketown), Groves' third record, isn't just posturing or a catchy slogan, but born of conviction rooted in Scripture. That song, like the rest of the record, was inspired by a study Groves has led on the Beatitudes. And, of course, by Larry King.
After the Columbine shootings, Groves caught an interview with Billy Graham on "Larry King Live." "Larry asked [him] the question 'Why?' And there's this long pause before he answered. I've got my list of answers that the evangelical church has taught us to recite – video game violence, absent fathers, Marilyn Manson, Eminem, MTV, can't pray in school. But Billy Graham's answer was a lot smarter than that: 'There was a couple who were very much in love who God put in the garden called Eden, and He put a tree there and told them not to eat from it. … ' He just moved on and talked through the whole story of the fall."
"What's wrong with the world is not something out there that's waiting for a good boycott, legislation or the right man in the White House," Groves continues. "That's not going to fix it. What's wrong with the world is the heart. Jesus is talking to these Jews in His day who are all about keeping the outside of the cup clean and letting the inside be as dirty as they want it. They were all about rules and regulations and problem solving. And He says, 'No – it's your heart. I'm going to preach to you the longest message you're going to have in the Bible, and it's going to start with "You are wicked."' It's a heart issue."
Those "heart issues" – and how Jesus deals with them – have been the focus of late for IKON, the college-and-young-adults Bible study Groves co-pastors with his brother-in-law/road manager/buddy Brian Seay at their home church in Franklin, Tenn. Particularly, their study of the Beatitudes, in which Jesus addresses the heart of the believer, has inspired "White Flag," which follows the progression of the "blessed are …" statements in Matthew 5.
Groves and Seay have intentioned the study to connect with both the churched and un-churched. The key? Going verse by verse through the Bible, which Groves says prevents them both from "leaning on denominational bias" that might turn off outsiders and "leaning on the parts we understand" or tailoring topical studies that will draw big numbers.
"It's taken those of us who are rule followers and forced us to examine our hearts. The Beatitudes get down to motivation – the inner life – and that wakes us up in a hurry to what our relationship with God is really like." Applying that has meant emphasizing service and "showing mercy" in the group, Groves says, by building Habitat houses, doing mission trips, seeing people's differences reconciled and students dedicating their career paths to the Lord.
Groves didn't intend to write a theme album out of the study but found ultimately he couldn't avoid it. "I was trying to write songs for about six months, but nothing came out that I liked. It all lacked direction. Unless I have a point to what I'm doing, I start thinking like a marketing guy. The bad part of me starts controlling the creative part, thinking about what's hot, what's selling."
Have something to say about this article? Leave your comment via Facebook below!
advertise with us
Example: "Gen 1:1" "John 3" "Moses" "trust"
Advanced Search
Listen to Your Favorite Pastors