Dart to the Heart
Beau Black, CCM Magazine
Tuesday, August 02, 2005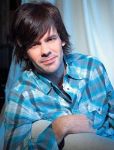 Finally, at the nudging of Seay, he got moving in a different direction. "I kept coming back to the Beatitudes. When I would talk to people, all my conversations were based around that. Every time I sat down to write, that kept coming up. This didn't seem like a good career move, but I came to the realization that I needed to do this, at least to get it out of me."
The result is rawer, more guitar-drenched than anything he's done. Other songs find expression in piano-driven balladry that recalls but doesn't mimic his signature song, "Welcome Home." And Groves handled the production chores for the first time, using his own band. The results recapture the energy that sparkled through "Invitation to Eavesdrop" – and was largely MIA on "Twilight."
The first song he wrote was "Heaven Hang on," one he'd begun four years earlier. The story song, based on the experiences of his wife who was in an abusive relationship in college and a neighbor whom Groves helped out of a similar spot, is about showing mercy in uncomfortable situations.
That phrase, 'showing mercy,' dominates the wiry songwriter's conversation. "I grew up in a very political family and a conservative, political church denomination," he says. "I'd seen modeled for me that we take the least of our society and turn them over to a political process. God founded the church to be His hands on earth, to make His love visible. That's what we the church are supposed to do – not we the country. I give so much of my money to the government to show mercy to the least, but I'm reluctant to do that to my church."
"So many of our churches are vacant during the week – chairs stacked, lights off. But that's a great resource. If we had retired people who could teach a skill, we could use that space to help take people off welfare roles. We have all these resources that could be used to create jobs, educate single moms, provide childcare for the poor instead of suburban moms, teach [their] kids computer skills or conflict resolution skills. If we did,  we'd more closely resemble church in Acts … that all goes back to showing mercy."
Which brings us again to those "blessed are" statements in Matthew: "He starts with blessed are the poor in spirit, then comes to blessed are the meek, which is surrender. He's referencing Psalm 37:1-9, where the meek are described as people who've committed their way to Lord, who've surrendered their poverty of spirit over to God. So you have poverty and mourning which lead us to surrender, and then everything on the back half is what comes from surrender. If this meekness is there, then Jesus says you'll hunger and thirst for righteousness, you'll show mercy, you'll make peace. Poverty of spirit leads us to surrender, and surrender leads us to being a disciple. And right in the middle is the core idea of surrender, and that's 'White Flag.'"
It's evident that he and Seay have purposefully positioned their ministry out of sync with predominant church trends. "We definitely lean heavily on the Bible, in part in reaction against the Baby Boomer, seeker, 'edutainment' movement. I know God uses that, but it's very different. That model has put a lot on getting people down the aisle – get them to church and fixed up, but there's a danger of never really moving to discipleship. Jesus puts that first. The [typical church] altar call is 'Come down front and go to heaven.' His altar call is 'Follow Me.'"
"He called us not to make believers but to make disciples, with hearts yielded to God alone," Groves reflects. "That's all one thing – not getting saved and then having the option of enrolling in the 'bonus program' of discipleship."
Have something to say about this article? Leave your comment via Facebook below!
advertise with us
Example: "Gen 1:1" "John 3" "Moses" "trust"
Advanced Search
Listen to Your Favorite Pastors