Dart to the Heart
Beau Black, CCM Magazine
Tuesday, August 02, 2005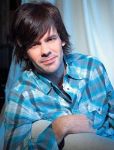 But rather than focus on 'what's wrong' with the church, "We try to give lots of examples of people who are doing this right … rather than negative examples. The person in the third row who's doing this, or the guy I met on the road this week who's working toward racial reconciliation.
"Paul told Timothy that there would be people in the church that wanted their ears tickled. He says don't give them that – preach the full gospel. We don't medicate or avoid our problems away or put a smile on top of them. The problems and frustrations of life come out of our heart," he says, emphasizing the importance of understanding our heart's condition.
"White Flag"'s first single is "Bless the Lord," the only song Groves didn't write. "When 9/11 happened, I was on a tour with Bebo Norman, and among the guys … you saw pretty much every reaction – and I probably had all of them. There's a group of guys called Among Thorns [also part of the IKON study], and they saw those events and wrote 'Bless the Lord.' How do we respond as Christians? Mine was mostly anger. Theirs was reminding ourselves that when we face dictators and evil people, God's still God over them. You can't really live out mercy or peace if you're giving away a part of your heart to materialism or patriotism. It's a good perspective-adjusting song."
Groves has gotten a dose of that himself, it seems. When "Twilight" released, his pastor called to ask him to take over the young adults ministry. "But I was too busy." A few months later, after his second record failed to yield a big radio hit, the opportunity came back around, and he took it with the condition that Seay (brother of pastor/author Chris and songwriter/worship leader Robbie) come along.
For Groves, teaching is a return to an old love, one sacrificed for a season to his musical aspirations. "When I became a rock star," he says with a laugh, "I didn't have time to invest like I used to, and I really missed it. I didn't feel like I was using everything that God has given me. It's like that Eric Liddell quote [from "Chariots of Fire"] – 'I feel God's pleasure when I run.' I feel that when I teach."
"The second record didn't do as well, and I learned it's alright not to be number one or be on the cover. I've kept a roof over our heads and diapers on our kids. Sometimes when you're obedient to God, the crowds desert you … " he says.
"I'm going to be faithful, and if that doesn't mean successful, that's okay. The blessing of the Beatitudes is that you're better off eternally if you're poor in spirit, if you're persecuted, not if you have a nice car or a Dove Award. Now that I've tasted both success and mediocrity, I didn't feel closer to God in either. It doesn't matter. That's part of purity of heart," Groves concludes. "Of course I'd love to be loved, but if it's from the world, I need to check out who my God is."

© 2005 CCM Magazine.  All rights reserved.  Used with permission.  Click here to subscribe.
Have something to say about this article? Leave your comment via Facebook below!
advertise with us
Example: "Gen 1:1" "John 3" "Moses" "trust"
Advanced Search
Listen to Your Favorite Pastors