David Crowder: Left of Center
Doug Van Pelt, CCM Magazine
Wednesday, January 02, 2008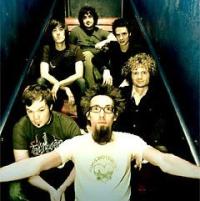 Once inside, though, there are subtle reminders everywhere that its inhabitants are thoughtful people with great attention to detail—just slightly left of normal. Recycled corrugated tin kickboards line the bottom half of the dark-toned hallways that route visitors either to the windowless sanctuary in the middle or past each of the fashionably-decorated offices.
Following the lone sound of activity in the quiet building, it is pretty easy to spot Crowder's empty office: an electric guitar is balanced on a sofa, and a lightweight mountain bike with a towering seat height leans against a wall.
Like the polite southern gentleman he is, the first thing he does is offer us a Dr. Pepper (naturally) or snack before guiding us on a tour. Complimented on the look and feel of the building, he is quick to credit his wife, Toni, for decorating everything in the church with a great eye for comfort, function and an appealing art aesthetic. There isn't a blank white wall space anywhere in sight—color is everywhere, albeit tranquil. The main sanctuary has candles draping the platform at most every opportune location. Large clumps of melted wax adorn the side and edges of the stage and onto the floor. "Oh yes," our guide affirms, "we've gotta have candles."
On the stage there are the usual instruments (drums, piano, guitar cabinets), plus some unusual gadgets and new-fangled instruments used to introduce new songs. In the center is a flying-v controller for the ever-popular video game Guitar Hero; the little kid inside Crowder is visible as he technically explains the wizardry involved in re-wiring the plastic instrument to trigger various samples. There is also an antique portable multi-meter measuring device in a case gutted to house a Line-6 POD guitar effects box. The ingenuity involved and coolness factor of these gadgets is quite impressive. The guy's a tech freak. Big time.
Hand of God
As we settle down for an interview, Crowder shares how he came to Christ as a young boy, then apologized to his parents. "They were very protective. They didn't want me to make a commitment too soon. They wanted me to be sure I knew what was going on.
So, we were up in Tulsa, Okla., and we were at Camp Meeting. I was in the children's church there. I had terrible separation anxiety, from practically being born in the First Baptist nursery. I got carted away to class for hours, but eventually it was cool, because the guy leading children's church had a purple puppet named Eugene. At some point in the evening after we'd sung songs with Eugene and had a fantastic time with Eugene, he said, 'Eugene, would you like Jesus in your heart?' And Eugene said, 'Yes!' I said, 'Yeah, I want what Eugene's got,' and so I was led to Christ by a puppet ministry," he chuckles. "So, never underestimate the power of puppets!
I was terrified when my parents picked me up, because I was afraid they were going to be mad at me. I knew, 'Don't make a commitment too soon, before you know what you're doing,' so on the ride back to the hotel I'm scared to death. I can still feel it. I was terrified, so I start crying. My parents were like, 'What's wrong?' I said, 'I'm so sorry! I'm so sorry! I asked Jesus into my heart. Eugene did it; I did it.' Of course, they were thrilled to death. That was when my relationship with Jesus began—it was at the age of seven after Eugene the puppet asked Jesus into his heart."
Why Knock Rock
Crowder's involvement in music started early on as well, after his mom recognized he could bang out recognizable melodies on the piano without any lessons (which soon followed). Later on, it was one of those anti-rock seminars that turned him on to the heavy stuff. It was a video called Hell's Bells, and the segment about backward masking featured the Queen hit "Another One Bites the Dust" (which it was "surmised" included the message "start to smoke marijuana" in reverse). The riff in that tune and the AC-DC title track were enough to launch his album-buying habit shortly thereafter.
Have something to say about this article? Leave your comment via Facebook below!
advertise with us
Example: "Gen 1:1" "John 3" "Moses" "trust"
Advanced Search
Listen to Your Favorite Pastors