David Crowder: Left of Center
Doug Van Pelt, CCM Magazine
Wednesday, January 02, 2008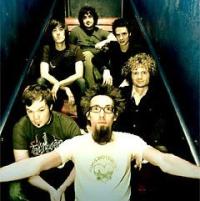 Fast forward several years, and Crowder heads to Waco to join his friend at Baylor University. Even though he was being groomed to take over his dad's insurance business, he felt called to try his hand at a music degree.
He helps out with music for a Wednesday night youth group service across town for awhile. Then he helps start University Baptist Church become a space where people can feel as free about asking questions without the knee jerk reaction to immediately answer them. At first his help was instrumental accompaniment—and then he started singing. "It was awful at first," he admits.
His friend and pastor that helped start the church, Chris Seay, groomed Crowder's musical skills and slowly weaned him from the background to the front of the stage. "We have some early recordings that we don't talk about," he laughs. Crowder and his band actually recorded an album around that time. (Apparently, not too long ago all the remaining copies were taken by his wife to an undisclosed dumpster and forever erased from the annals of music history.)
Crowder sees his voice as a "work in progress," pointing to its development over the course of the last few albums. While that may be true, it's more likely a humble act of self-deprecation, as no one seems to be complaining about anything that comes from this popular songwriting team. Another example of him reflecting the spotlight away from himself comes when I ask him to share his advice on how to write a good worship song. His response is immediate: "I don't know, let's call Chris Tomlin and ask him!"
David Crowder Band (purposefully omitting the pronoun "the" in front of its name) is essentially an honest-to-goodness extension of University Baptist Church. Through an organic process and friendship, with a couple of lineup changes due to the transient nature of a college-based congregation, these six musicians—B-Wack, Hogan, Jack Parker, Mike D, Mark Waldrop and Crowder—ended up onstage together. This organic process helps make for the type of creativity and what Crowder calls "conversations" to develop in a free atmosphere that captures the "realness" of what probably turns people on to their worship songs. It is possibly the antithesis of a contrived hit-making formula.
Strong Medicine
Ironically, the new album, Remedy, is perhaps DCB's finest recorded moment to date. Like its predecessor, A Collision (and B Collision, if you count them as a whole), almost every detail is incredibly well thought out, each part and nuance serving a purpose. This even includes the pervasive green color in the packaging, reinforcing the holistic redemptive approach of believers taking an active—if not leading—role in being responsible with and the care of creation.
This attention to detail is more than likely a byproduct of very creative individuals getting together and needing as many outlets as possible to channel it. Crowder's already got the next album planned, by the way. That should come as no surprise here, as Remedy was setup with the end of A Collision. "Our intent this time was to put together a record of really simple songs." It serves almost as a relief from the weightier subject of mortality explored on that one, coincidentally, before they had to deal with it in the tragic death of the church's pastor, Kyle Lake.
As a result of coming through to the other side with hope, the next logical step was some sort of action. "If this is real," Crowder says, "then whatever we believe as a community is going to result in actions."
Have something to say about this article? Leave your comment via Facebook below!
advertise with us
Example: "Gen 1:1" "John 3" "Moses" "trust"
Advanced Search
Listen to Your Favorite Pastors