David Crowder: Living in a Collide-oscope World
Christa A. Banister, CCM Magazine
Monday, November 21, 2005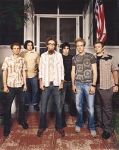 And it was that literary find in a stack of used books that helped inspire the concept behind "A Collision." "When it comes down to it, this model is improper in its depiction of particular matter," he adds. "We know that electrons don't circle in elliptical paths around a nucleus. And this is why symbols aren't always a correct depiction. They are always a little broken. And when I thought about it while freezing in the middle of a downtown Chicago intersection, this incomplete drawing helped me realize that this is what art really is. We are creating what ends up being broken containers."
As he talks, there's almost a giddy enthusiasm in his voice when he recalls that afternoon in Chicago that changed the course of "A Collision." Well, that, plus a little bluegrass thrown in for good measure, and a tragedy.
An Introduction to Bluegrass and Tragedy
Now if you've heard any of Crowder's previous efforts, you know there's nary a fiddle to speak of. He and his band were presented with a challenge, a triple-dog dare if you will, from the grandfather of one of Crowder's band mates after a show in Dallas: "You boys should do a bluegrass number, as it is the superior variety of music!" And so began what Crowder calls "his eschatology of bluegrass."
As Crowder became a student of the genre, he discovered that most bluegrass songs share something in common:  a yearning for heaven that is often referred to as "the sweet by and by" or "flying away to glory." At first, Crowder was a bit disturbed by what he found. "It seemed there was this glaring, unbalanced doctrinal depiction of the kingdom of heaven," he comments. "So I had this fear that this approach to Christian living has led many a person's head into the clouds and allowed them to justify neglecting bringing the kingdom of heaven into the here and now."
But his apprehensions were quickly put to rest.
"[During the summer of '05] when we were on the bus flipping through television channels, we came across an old rerun of 'The Wilburn Brothers' variety show on the Rural Farm Delivery Network, as they announced, 'And now, Miss Loretta Lynn!' It cut from the brothers to a young Loretta holding a guitar," Crowder recalls. "She opened her mouth and sang, 'Everybody wants to go to heaven, but nobody wants to die!' And her voice was in my head a month later when a close friend was diagnosed with breast cancer and told it was terminal. I decided the phrase Loretta Lynn used would open "A Collision." Then after we had finished tracking, I saw her backstage in Atlanta; and she said to me, 'It's not that I'm afraid to die. I mean, I want to go to heaven. I just don't want to die.' And I knew exactly what she meant."
The events of last December's devastating tsunami that claimed nearly 200,000 lives also inspired Crowder to put pen to paper for the moving worship of "Here Is Our King."
"It is a difficult thing to observe the depth of our fall in such a vivid way. I mean we know that things in the world aren't as God intended. But here is this thing that comes from the middle of the sea to bring devastation, and our minds cannot fit this in," Crowder says. "It is the depth of our fall upon us. Even the ground under our feet is not right. The air we breathe is not right. Yet, the hope I have found in Christ miraculously expands. I believe that we are part of a bigger story unfolding. I believe that the rescue of creation has been coming toward us for a long time. I believe that, sure, there was a moment that I was found by this rescue and that I am rescued continually; but the even greater thing, the thing that expands in my chest in this moment, is that there is more coming! He is coming to set things right."
Have something to say about this article? Leave your comment via Facebook below!
advertise with us
Example: "Gen 1:1" "John 3" "Moses" "trust"
Advanced Search
Listen to Your Favorite Pastors