Deep Enough to Dream
Angus Blaine, CCM Magazine
Thursday, July 08, 2004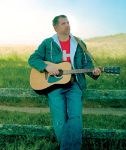 Eight years into his career, Chris Rice seems to have it pretty well figured out. Eleven number ones, six Dove nods, a Dove Award for "Male Vocalist of the Year" and sales of more than a million units. Not too shabby for a self-described "introvert," who still considers music a side venture.
In fact, it's probably fair to say that Chris Rice never intentionally pursued a recording career. It was thrust upon him, and he found a way to make room for it. And after a while, like with some sitcom-generated Scandinavian third-cousin, who came for a summer visit and never left, he kind of grew to like having it around.
"Short Term Memories," a best-of retrospective laced with a couple of new cuts, now marks Rice's seventh Rocketown Records release in eight years. It showcases all the reasons one of Christian music's most understated artists has become a long-term commercial and critical success: poignant, accessible lyrics, good storytelling, colorful melodic sensibilities and an artful simplicity that compliments a deeply rooted faith. Chris' songs feel like they're a part of real life. And they are.
"In a lot of my songs," Chris explains, "I'm just remembering the obvious, the innocence of childhood, the wonder of everything being new. You're seeing things for the first time. You're not jaded about stuff. You're not accustomed to life yet. I still want to live that way. Even at my age I want to have my eyes open wide and have my breath taken away by a sunset. I'm not trying to be poetic; I just love discovery."
Chris' best lyrics have always seemed to move in two directions. Even as they're reaching backward to those Eden-like images of childhood, they're also pushing forward to catch a glimpse of the heaven to come. They wrestle with and celebrate the life that we know between those two extremes, balancing the nostalgia of what was with the promise of what will one day be. Songs such as "Clumsy," "Home Tonight," "Smell the Color 9" and his first single, 1997's "Deep Enough to Dream," struck a chord in our collective imaginations, reminding us that while we're not there yet, we're someday going to be.
"I imagine heaven will be 'earthier' in some ways than what we've been taught," Chris says. "I think we'll still have work and relationships and creativity and building things – all those things we're created for – but it'll all be free from any sinful motivation. Having that picture in mind should bring a better context to how we interact with each other here and with people who don't believe. 'Thy Kingdom come, Thy will be done on Earth as it is in heaven' is about advancing the Kingdom of God as much as we can now, not just waiting for that day when everything finally gets set right. We have opportunities; we have the Spirit of God; we have Christ in us; we have relationships through which we can make that happen to some degree even now."
For Chris, having that knowledge also brings with it the responsibility to share it in a way that causes listeners to pause, consider and, perhaps, even rethink their assumptions.
"I want people to grow and expand how they look at the world, themselves and God," he says. "In modern American Christian circles it's easy to use the same old language and terminology. I like to knock that out of the way a little bit and try a different way of saying things so people have to engage their brains. Sometimes that makes the audience uncomfortable. Sometimes it makes the record label uncomfortable. But I think that's one of the points of why I'm doing what I do: to help stretch people."
Have something to say about this article? Leave your comment via Facebook below!
advertise with us
Example: "Gen 1:1" "John 3" "Moses" "trust"
Advanced Search
Listen to Your Favorite Pastors