Delirious: Band on a "Mission"
Louis R. Carlozo, CCM Magazine
Tuesday, March 14, 2006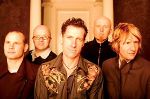 The longevity of Britain's most prominent Christian rock band can be summed up in a neat factoid:  Today's teenage fans of Delirious were toddlers when the group was taking its first baby steps as a worship band in Littlehampton, England.
"It's been an interesting journey, to be honest," says vocalist/guitarist Martin Smith, calling in from England to discuss Delirious' latest release, "The Mission Bell" (Sparrow). "All we know is that we're still a band that's improving; we're getting better live, and 'The Mission Bell' is our best studio effort. And when you're moving forward, you don't look back. There's no time to romanticize – we're too busy. It's all progress and learning, isn't it?"
The music of this band – which has both delighted and challenged listeners over the years – has always been smart musically, drawing comparisons to U2, Radiohead and Blur. But to hear Smith tell it, the challenge on "The Mission Bell" was to make an album that was lyrically brilliant – surpassing anything Delirious has done before.
"The biggest advance on this record was the lyrical content," Smith says. "We spent a lot of time laboring over the lyrics to make sure we said something fresh, from 'Our God Reigns' to 'Paint the Town Red.' A lot of [the topics] were things we would just talk about in conversation – from the AIDS crisis in Africa to 'Is it alright for a Christian to have [plastic surgery]?'"
"Our God Reigns" – a key-of-D dirge built around spare acoustic guitar, a whirlwind of keyboards and thunderous percussion – may be the hardest-hitting piece on "The Mission Bell." It tackles abortion in the first verse ("40 million babies/ Lost to God's great orphanage/ It's a modern day genocide/ And a modern day disgrace."). Later, Smith sings about the AIDS pandemic: "My Chinese takeaway/ Could pay for someone's drugs."
"We know this record is slightly uncomfortable to listen to, but we're proud of it," says Smith, a father of five. "And, musically, it's great – it bridges the gaps [between previous Delirious efforts]."
Some of the sonic contrasts on "The Mission Bell" are striking. "Love Is a Miracle" alternates between smoldering, soulful verses pierced by electric guitar stabs and wide-open, gospel-flavored choruses thick with percussion. Elsewhere, "Paint the Town Red" rocks as hard as anything Delirious has ever cut, while "Solid Rock" trails out with a guest rap by tobyMac, who uses Edward Mote's 19th century hymn "My Hope Is Built On Nothing Less" as his text.
But for Smith, the song "Miracle Maker" is "probably the joy and the crown. It's the take on the man who is too poor and crippled to get to the stirring of the waters. It came together in the studio, and when I hear it, I think, 'We nailed it, we nailed it' – and we'll always be proud of that."
"Miracle Maker" indeed balances frailty and strength with finesse, as Smith begins the song with a voice befitting a broken spirit. But as he soars into the chorus – "Holy, You are holy" – his tenor takes flight above the music with such intensity that you can feel the living water beading his brow.
As it was with "Miracle Maker," so with almost all of "The Mission Bell," Smith says, "We were less prepared than ever on this one. But we made a conscious decision to do the [song] demos in the studio, and as we did, we thought, 'Let's just print them.' There are mistakes; on one song, there's a drum fill that goes in an entirely different direction because [drummer Stew Smith] hadn't learned it properly. But we thought, 'That sounds great, let's keep it.' It was a journey of discovery, and when I listen to the record, I'm still discovering it myself."
Have something to say about this article? Leave your comment via Facebook below!
advertise with us
Example: "Gen 1:1" "John 3" "Moses" "trust"
Advanced Search
Listen to Your Favorite Pastors