Delirious: Band on a "Mission"
Louis R. Carlozo, CCM Magazine
Tuesday, March 14, 2006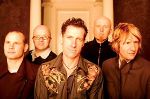 Martin Smith isn't the only one enjoying recurring discovery with "The Mission Bell." Consider this take by INO recording artist/worship leader Darlene Zschech:  "For many years now, Delirious has been inspiring us in our pursuit of Christ through its creative genius and uncompromising message of faith and hope through music. My husband Mark and I count it one of life's greatest riches to call these guys and their families our friends and co-laborers as they continue to fill the earth with the high praises of God. We consider 'The Mission Bell' one of their absolute finest projects ... prophetic, compelling and just basically brilliant. There are songs for the church, songs for the broken and songs of devotion and gratitude."
"The Mission Bell" also marks the latest chapter for an outfit that has evolved tremendously since its early years. The story began in 1992, which saw the dawning of "Cutting Edge," a monthly gathering of music and worship organized by several of Delirious' current members. Within a year, crowds of 200 to 300 were showing up to see the group – which at first had no name, but was christened "the Cutting Edge band" so promoters would have something to put on posters.
By 1994, "Cutting Edge" attendance was topping 1,000; by 1995, the group took on its present lineup. The following year saw the name change, and it didn't take long for Delirious to turn heads across the Atlantic. Starting in 1997, Sparrow Records released all of the band's previous work – the fruit of seven years of labor – within a 24-month span. And that's all the time it took for Delirious, along with America's Sonicflood, to kick-start the modern worship boom that reshaped the world of Christian music.
It hasn't always been smooth sailing, though:  Controversy ensued in 1999 when multiple Christian retail chains refused to carry Delirious' "Mezzamorphis" album, because the song "It's OK" contained the phrase, "She's pretty as hell, and her eyes have no home." Sparrow Records stood by the band as it weathered the storm.
Smith acknowledges that the group's geographic location in Europe and its reputation for pushing limits have made it more difficult to achieve top-level success in the U.S. "I don't think we're ever going to be the Bill Gaither Vocal Band, are we? Or those big pop acts like the Jeremy Camps, though we love those guys," he says. "From the day we started, we've had shovels in hand, and, hopefully, we're clearing the way. We just have a great life. Last year we traveled in 20 different countries; and some people get it, and some don't. And yes, we'd love to sell a million records in America, yet we haven't. Maybe it's the distribution. Maybe it's that we haven't toured enough."
Of course, Smith recognizes that he could always prevail on his bandmates to sand down the rough edges a bit. "But that isn't Delirious, is it?" he asks rhetorically. "We trip ourselves up saying what we want to say as it is. And that's how we want it to continue. We could've been a sugary pop band to please everyone, but then it wouldn't be Delirious."


© 2006 CCM Magazine.  All rights reserved.  Used with permission.   Click here to subscribe.





Have something to say about this article? Leave your comment via Facebook below!
advertise with us
Example: "Gen 1:1" "John 3" "Moses" "trust"
Advanced Search
Listen to Your Favorite Pastors