Derek Webb: To Kill a Mockingbird
Andrew Greer, CCMmagazine.com
Thursday, September 10, 2009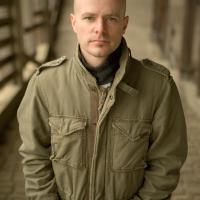 Derek Webb is arguably the most controversial and complex artist influencing Christian music today. And due to a recent single song squabble, the opinionated singer/songwriter will be releasing his fifth studio recording both independently (of sorts) and through his longtime label, INO.
In part one of a two-part CCM exclusive, the former Caedmon's Call component talks about Stockholm Syndrome's musical shift and why he'd prefer to be on a label in spite of the ruckus, because after all, business is just business.
CCM: Let's talk about the music first. Stockholm Syndrome is dramatically different than past records, trading acoustic traditions for a wetter, beats-oriented sound. Why the change?
Derek Webb: I resist boredom. I bristle when I start carving space out to where it sounds like a rut. I'm restless artistically.
I'm always chasing music that makes me feel something, that speaks to me. For a long time it was music in the protest song movement/tradition with Joan Baez, Woody Guthrie, Bob Dylan. A lot of folk music was acoustic music in the '60s and '70s. "Folk Music" meaning music for folks, music that tells the unfiltered stories of the people and what's really going on in culture. I'm not finding that anymore. On the whole, acoustic music is not provocative. It's pretty flat.
I find myself getting into hip-hop, and really loving the energy of that music. Hip-hop has picked up the tradition. They're speaking about what's happening in culture. And that's what got me into experimenting with more programmed, electronic sounds. There are so many possibilities in electronic music, so many different shades and nuances. I could make two or three more records in a similar fashion, have it all be different, but still be inorganic in a way that I like.
The creative process this time around was more enjoyable than anything I've done prior. I'm still a folk singer. But all my records have been different from one another. This is just further down the road in an inevitable progression.
CCM: Listeners and industry personnel generally understand what they are getting into when they pick up or sign on for a Derek Webb record. When recording Stockholm Syndrome, did you think it might be a bit too much for Christian music fans, or for your label, to handle?
Webb: I've worked really hard over the years not to think about things like that. I feel like any time spent anticipating anyone's reaction to anything potentially impedes the creative process. I wind up filtering in some way, even subconsciously, what I'm saying. I'm doing my best work and am most trustworthy to my listeners when I care the least about what they, or anyone else, thinks about what I'm about to do.
The only way you can trust an artist is if they are trying to be instinctive, regardless of whatever consequences might be around the corner. That's what people should want and expect from their artists.
CCM: If what this sort of Hippocratic Oath or "artist creed" encompasses, stretches the label's parameters, do you ever think, Why don't I just do this on my own? Then I can say whatever I want.
Webb: I've thought about it, certainly. But I'm not interested in being a record label. I don't have the time. I don't want to spend the money that the label spends. I'm not interested in putting that pressure on my management. I would rather them manage me well than run a record label for me. And if I can pull it off, I feel it is a bigger coup for me to continue to do what I'm doing from the inside. I lose a certain amount of efficiency or effectiveness if I was saying what I'm trying to say from the outside. The whole perception of it changes.
Have something to say about this article? Leave your comment via Facebook below!
advertise with us
Example: "Gen 1:1" "John 3" "Moses" "trust"
Advanced Search
Listen to Your Favorite Pastors