Flyleaf: Artfully Alive
John J. Thomspon, CCM Magazine
Friday, March 02, 2007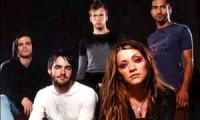 No band has generated more buzz in the faith-rock continuum during the last year than Temple, Texas' post-hardcore/metal champs Flyleaf.
Their self-titled debut has earned the respect of mainstream and Christian audiences and critics, and scored three hits and counting: "I'm So Sick," "All Around Me" and the Top 10 modern rock single "Fully Alive." Major and constant tours, including jaunts with "The Family Values Tour," P.O.D., Taproot, Staind, Disturbed, Nonpoint, Korn and others, as well as, appearances at major Christian events like Cornerstone and "Acquire the Fire" youth rallies, have meant consistent general market and Christian radio play and a certified Gold sales status (500,000 albums shipped) for this debut band.
In addition to Flyleaf's unique female-fronted hard rock sound, the band defies conventional wisdom by existing as Christians in the mainstream rock world who are completely unafraid to talk about their faith in plain and simple terms.
In an e-mail interview with WisemenPromotions.com firecracker front-woman Lacey Mosley laid it out. "Well, first of all," she wrote, "if it wasn't for being saved by Jesus, I would not be alive. I would be dead. Some people say Jesus saved their soul. ... Well, maybe Jesus saved my soul spiritually, but He also saved my life physically. Every aspect of my life today has to do with the fact that Jesus saved my life."
Mosley is not only quick to recount her dramatic conversion process which began as she was contemplating suicide, she often references scriptures, classic Christian authors such as C.S. Lewis and musical influences that range from The David Crowder Band to U2, making her a real enigma in the music culture.
Similarly to Switchfoot, P.O.D., Sixpence None the Richer and, of course, U2 before them, Flyleaf's success in several areas has been very influential to other artists in the genre. Skillet's Korey Cooper, a fellow artist of faith with designs on the mainstream counts herself as a big fan. "Flyleaf represents a new breed," Cooper says, "the 'next generation' if you will, of Christian music that effectively reaches the world with the gospel. They are breaking the mold, and not for the sake of breaking it or even for the sake of creating a new one, but because they are pioneering the trail that God has laid out for them. They are simply doing what God has placed in their hearts to do, not wavering from the criticism on either side. It's not about politics or meeting expectations, it's about a great band with great music who is submitted to the purposes of God in their generation. And who would deny props to a chick who sings that good and rocks that hard? Lacey's the real deal on every level."
Though Flyleaf's sales have been respectable in the Christian marketplace, and its influence is being felt throughout the scene, the band has spent much more time in the general market all along. In fact, while Flyleaf enjoys the worship environment and spiritual uplift of events such as "Acquire the Fire," it can sometimes be disorienting to be around so many Christians.
"I so love when believers get together that way," Mosley tells CCM via phone following a stadium-sized Acquire the Fire event in Texas, "And I love that they want to reach the youth because somebody has to! But the way they speak is not the way most of the people who come to our shows speak."
Have something to say about this article? Leave your comment via Facebook below!
advertise with us
Example: "Gen 1:1" "John 3" "Moses" "trust"
Advanced Search
Listen to Your Favorite Pastors