For the O.C. Supertones, "Revenge" Is Sweet
Thom Granger, CCM Magazine
Friday, September 10, 2004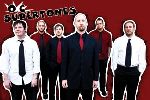 I may have lost my mojo. At least, that's what I thought for a moment or two of internal crises, looking around Nashville's coffee-hang Bongo Java in vain. It showed up a few minutes later in the form of Matt "Mojo" Morginsky, lead singer and primary songwriter for the O. C. Supertones, who joined me in line for morning sustenance and conversation. He is looking the worse for wear, or lack of sleep, as the case may be.
"I'm totally depressed," he shares openly, and I am wondering what kind of interview I am in for. "The Lakers lost the first game in the playoffs to the [Detroit] Pistons. I couldn't sleep all night thinking about it." I make a lame attempt to comfort him, that this is only the first game; but, as the playoffs have concluded since our meeting, I realize his fears were well founded.
Thank goodness for bagels and coffee, which boost the blood sugar enough to bring Mr. Morginsky to a mental state capable of setting aside his plans for revenge against the Pistons to discuss revenge of a different kind: the "Revenge of the Supertones," that is. It's the band's seventh album in almost as many years, and he and trombonist Dan Spencer, who has now joined us at the table, are ready, willing and able to discuss it instead of the game.
But Mojo's love of the Lakers prompts the question of what prompted he and Spencer to leave their homes behind the "Orange Curtain" and move to a very different kind of Music City — especially in light of the fact that the other half of the band stayed behind. "I just wanted to live somewhere else," says Mojo, "and Dan moved in with me. He had a girlfriend [in Nashville] and wanted to be closer to her. He's married to her now. And our bass player, Chris [Beaty], lives out here as well. He's been in the band about a year now, though it seems like more than that because he was our road manager and friend before that. He used to play guitar in Seven Day Jesus, who we used to see on the road all the time."
Perhaps he moved here to be more involved with the Christian music industry in Nashville? Not a chance. "We didn't move to Nashville for business reasons; we just had a lot more friends out here," he explains. "I had gone through a divorce and was ready to make a new start somewhere else, and I had friends here who I had met over the years on tours — crew guys and people like that as well as musicians. I love it here."
And a new start is what may, hopefully, be happening for the band as well. Though to date, the Supertones boast more than a million copies sold of its various albums, the band's popularity has gradually fallen into the "smaller but fanatically loyal" category, with wider pop success and broader radio airplay eluding them. But a major tour this fall with Superchic[k] and its most accessible album yet might be just what this horn-driven ensemble needs to break through to the masses.
The boys blame some of this on their own sheer ignorance of industry issues. According to Mojo, "We were unaware that there was an industry when this band started. We didn't know about Nashville or anything; to us California was the world."
Dan adds, "I think out here [in Nashville] it's more business minded, whereas in California it's more about hanging out and making good music than planning a career in the Christian music industry or whatever."
But "hanging out and making good music" hasn't been a totally ineffective strategy, as the group has not only survived 26 member changes in its 13 years together but has headlined multiple concert tours, performed at World Youth Day with Pope John Paul II as well as numerous Billy Graham Crusades and appeared on MTV's "120 Minutes," CNN "Headline News" and the cover of national touring magazine, Pollstar.
Have something to say about this article? Leave your comment via Facebook below!
advertise with us
Example: "Gen 1:1" "John 3" "Moses" "trust"
Advanced Search