Furthering the Fire
David McCreary, Contributing Writer
Monday, June 02, 2003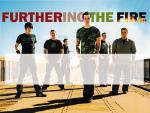 It's 3:30 in the afternoon. A steady rain falls in South Florida, home to bassist Chad Neptune and alt-rock band Further Seems Forever. Neptune (yes, that's his actual surname) speaks into his mobile phone with a nonchalance that, by the sound of it, leads one to believe the musician woke up just moments earlier.

Despite his laid-back demeanor, Neptune quickly proves himself an accomplished multi-tasker. How? By conducting an interview while driving his girlfriend to lunch, stopping at an ATM, drinking a Coke from a glass bottle and somehow staying focused even as his companion talks incessantly into another phone.

But perhaps more impressive is Neptune's propensity to eat his first meal of the day closer to dinnertime than lunch. "Technically, this will be breakfast," he says jokingly. "I'm just being lazy, but I really do like [to sleep] on days like today that are overcast."

The Madness

Overcast. That's an interesting word choice, especially considering the somewhat cloudy circumstances FSF has encountered since the group's genesis in 1998. Certainly most inclement was the departure of original vocalist Chris Carrabba, now an MTV mainstay, emo heartthrob and — oh yeah — front man for wildly popular acoustic outfit Dashboard Confessional. As it turns out, Carrabba recorded FSF's first full-length project, "The Moon Is Down" (Tooth & Nail) but left prior to the album's 2001 release — not exactly ideal timing for a group trying to find success in the general market.

"When Chris left the band, it was tough at first," Neptune confesses, "but in retrospect, it was probably the best thing for us and for him. Although several online and print publications have written extensively about FSF's apparent struggle to overcome a so-called "Chris-Carrabba-backup-band" stigma, Neptune debunks this notion as nonsense. "We don't think about that at all," he says confidently. "We just get in front of people and do our own thing."

FSF remains on good terms with Carrabba, and the members keep in touch as much as possible. Furthermore, Neptune shares that Carrabba has continued to be a source of encouragement to the band, although the superstar's busy schedule understandably prohibits frequent reunions. "We're totally supportive of him, too, but it's not like he needs our help," says Neptune, laughing.

The Music

Replacing such a high-profile lead singer was no small task, but the band scored Jason Gleason, a trained vocalist and erstwhile front man for Minneapolis-based metal act Affinity, to fill the void. While it's too early to tell if FSF devotees will fully embrace Gleason, early critiques of his talent have been highly favorable. In fact, Alternative Press Magazine raved recently, "Gleason sounds like he was born to front this band," while CMJ New Music Report wrote, "Gleason emotes with the best of them, and his voice is powerful enough to fill a room without ever sounding whiny."

Another fairly significant thing happened to FSF along the way: The band ever so slightly changed its musical identity. After tweaking its sound from an emo/hardcore style to more progressive rock flamboyance, the group reemerged this year with its sophomore effort, "How to Start a Fire" (Tooth & Nail).

"[This album] is a much more mature record than any of our previous efforts," says Neptune. "We wrote this disc knowing that our last one really had the same vibe to every song. On this album, there's a lot more depth and diversity." Much of the credit goes to producer James Paul Wisner, best known for his work with — surprise — Dashboard Confessional, who helped the band hone and polish its sound.

Have something to say about this article? Leave your comment via Facebook below!
advertise with us
Example: "Gen 1:1" "John 3" "Moses" "trust"
Advanced Search
Listen to Your Favorite Pastors