"Grace Like Rain" - Music Review
Chris Well

Music Reviewer

2003

7 May

COMMENTS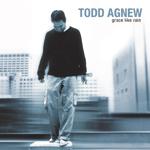 Artist:    Todd Agnew
Label:    Ardent Records

As the story goes, Todd Agnew's earthy baritone vocals were honed leading worship in church and then playing coffeehouses, where he covered songs by Dave Matthews Band and Counting Crows. Coincidentally, both influences are represented on Agnew's debut, "Grace Like Rain," which combines vertical lyrics and heartland power-pop.

The mix is best demonstrated in the title track, which borrows the words from "Amazing Grace" and jackets them in rugged, modern rock. The soaring Creed-ish power ballad, "This Fragile Breath," marvels at the scope of an infinite God and our desperate attempts to proclaim His praises. With sweet melancholy, the piano-based "Still Here Waiting" identifies with the journey of the prodigal son and the father who rejoiced when his son came home.

Some may find it too easy to point out sound-alikes, but "Grace Like Rain" is a hearty and heartfelt collection that burns with holy passion. Agnew shows a wonderful ability to articulate hope and worship in the language of the everyman.


Used by permission.  CCM Magazine © 2003  Click here to subscribe.