Great Expectations
Christa Farris, Contributing Writer
Friday, January 02, 2004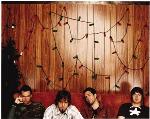 "We actually watched something that Charlie had unearthed from a closet recently — a Hi-8 tape with some band named Jars of Clay. And it was like, 'Man, we didn't know how to play or sing.' But we were all having fun, and you could see the raw elements that we've been able to watch grow and expand to different places," Steve recounts. "It should be a general kind of inspiration for life — that if you keep at it, you'll get better at some point. If you give enough, and you're passionate enough about something, you won't remain the same."
Our desire is to take a Christian voice and elevate it on the more artful side of what pop music is." — Matt Odmark
When recording "Who We Are Instead," the Jars of Clay guys say they were determined to keep the music simple and concentrate on what makes their faith genuine. Usually choosing to record in the familiar quarters of their own Sputnik Studio, flooding led to a change of venue. "Our studio kind of broke down, so we wrote at Matt's house for a while," Dan recalls. "We weren't really sure if we were going to find that creative place we needed in a different atmosphere, but we did. We ended up writing six of the record's songs there."
But even before one lyric was set to music, Dan seriously questioned whether Jars of Clay's musical well was running dry. "Sometimes we wonder if we're going to be able to write, to say things that are important. You wonder if it's worth it to even write music," he says. "But when you have a day like that, where the songs really come together and they're not fluff — they're about real things — it's why we do what we do. A day full of creating like that is powerful. That keeps us going."
With the band in "creating" mode, many of the age-old discussions that began with Jars' mainstream radio success of "Flood" and gigs alongside Sting, Sheryl Crow and Matchbox Twenty sparked new dialogue on Christian music message boards: "Is Jars of Clay planning to cater its new songs to a primarily mainstream audience?" When asked about the debate, Jars emphasizes a commitment to make music that communicates spiritual truths in a way that's relevant to modern culture — whether the band performs in a church, college campus or in a bar.
"I think we can say our philosophy about our music has never really changed in terms of where we'd like to see it go," Steve offers. "The encouraging thing is that a lot of people seem to be identifying with what they call 'spiritual music.' But we can never hope to 'mainstream' the message of the gospel to any fantastic degree. At the end of the day, what is the gospel but confessing that we have a great need that we can't fulfill on our own? And that's contrary to what's going to be preached by the world. Pop music is a disposable medium, and you're trying to put a message that's not disposable on any level with something that is."
"We're not just doing something and trying to pay the bills. God is working in our relationships with each other and in us as individuals." — Stephen Mason
Looking back at the last 10 years, it doesn't seem like there's much left for the band to accomplish, even if they do joke about "making a big comeback." After remaining quiet most of the evening, Matt thoughtfully pipes up when asked to look ahead: "I have a desire to see the Christian voice in the arts elevated. I believe that the key players in the Christian story are some of the key players in any art form. But for the most part, as a body, we've lost our ability to communicate in an ongoing dialogue with our culture about man and what he's here for. Maybe we got tripped up in our own language. Perhaps we lost a connection to it that feels authentic. So, for us, each record has been an attempt in that journey of trying to strip away all the things that could cloud what Christianity is all about — expressing it through art and letting it speak for itself."
Have something to say about this article? Leave your comment via Facebook below!
advertise with us
Example: "Gen 1:1" "John 3" "Moses" "trust"
Advanced Search
Listen to Your Favorite Pastors