Great Expectations
Christa Farris, Contributing Writer
Friday, January 02, 2004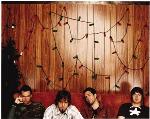 While Charlie, Steve and Dan applaud Matt's thoughtful aspirations with affirming nods in his direction, the serious turn of conversation morphs back to being humorous once again.
Charlie: "Another thing we haven't done yet as a band is swap out the band members a few different times — except for Dan."
Steve: "Yeah, get some kids who can dance or something."
Charlie: "Maybe some modern ballet? Or choreography?"
Matt: "Oh there's been choreography!"
Steve: "Yeah, we had to stop because I couldn't do it."
"In some ways it feels like a lot of the stuff we spend our time doing is about building up our little Jars of Clay 'kingdom.' Then all of a sudden we talk about Africa, and it's Jars of Clay what?" — Charlie Lowell
When all is said and done, Jars of Clay also hopes to be more than just a band that talks about important issues from the stage — whether it's addressing the plight of the persecuted church in China or the poverty and AIDS crisis in Africa. Instead of being content simply to recite the horrifying statistics about the AIDS pandemic, Dan experienced the devastation firsthand during a stint with World Vision and African Leadership last year.
While a naïve cynic might claim these efforts to educate the world about AIDS are just a way to ride Bono's advocacy coattails, the band took a personal stake by reaching out to victims and recently forming its own non-profit organization, Blood:Water. The effort was developed to encourage the band's core audience of college students to invest in community development in third world countries by using their resources, ideas and passion to improve the lives of others.
"I think one of the things that drives me, whether I like it or not, is to work with people outside the scope of my community," Dan says. "I know that God seems to work best to grow faith in people when they're really outside their comfort zone. I think when we first started having encounters with people who are suffering and trying to make sense of how the gospel lived in that kind of place, I realized that I'll be challenged in ways I never could be otherwise. When God says you'll always have the poor, He almost says that as an encouragement because He's saying you'll always have the opportunity to experience real giving, real mercy and what real grace looks like. I think that's a big part of why we do what we do because we recognize that there are challenges within that kind of activity that are life-changing."
To read Dan's recent letter to the Christian music community about the AIDS pandemic or to find out more about Blood:Water and Jars of Clay, check out CCMmagazine.com.

© 2003 CCM Magazine.  All rights reserved.  Used with permission.  Click here to subscribe.
Have something to say about this article? Leave your comment via Facebook below!
advertise with us
Example: "Gen 1:1" "John 3" "Moses" "trust"
Advanced Search
Listen to Your Favorite Pastors