Guns, Drugs and Mission Work
Anthony Debarros, Contributing Writer
Monday, October 07, 2002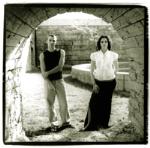 "It was a huge missions trip," Natalie says.  "We had all this pressure."
Natalie was not prescribed medicine; but because Phillip would be hiking in the jungle, he was given the anti-malaria drug.  Just hours after his first pill, things got weird.
"I became paranoid, extremely scared," he remembers.  "We were in Miami for three days (before Venezuela), and by the third day I didn't know what was going on.  I thought people were following me.  Then we flew to Caracas, and I didn't sleep because I was paranoid that someone was going to kill me.  It sounds really wild, but I was scared to eat because I thought people were poisoning me."
Natalie and the LaRues' mother, who was on the trip, too, knew something wasn't right.
"I definitely knew he was tripping out," Natalie says.  "I remember trying to pull him aside a couple times, and he would be stone cold to me.  And people would ask me, 'What's going on with your brother?'  I was like, 'I don't know.'"
Natalie and her mom speculated it was the Lariam.  But before they could take action, one morning Phillip disappeared from their hotel.
"This sounds really crazy, but it actually felt like I was in a game," he remembers.  "I felt like I had to leave the hotel to beat this game.  I thought someone was chasing me.  I was lost, and I passed this border, to an embassy or something, and people were yelling at me in Spanish.  So I left, and a few minutes later a couple of police cars and motorcycles pulled up around me, and I was at gunpoint."
The entourage took Phillip to the American embassy and reunited him with his family.
"It got to the point where my mom was there, and [I thought] her eyes were changing colors," Phillip remembers.  "They flew me home the next day.  I was so weak I couldn't walk.  I lost 24 pounds in a week."
It took six months for the drug to clear his system.  "At one point," Natalie says, "we thought we'd lost him forever."
The event, however, has not changed their resolve to honor the Lord through their music and lives.
"Phillip and I have promised each other that the only reason we're doing this is so we can fulfill the two greatest commandments God has given us--which is to love the Lord your God with all your heart, mind, soul and strength and love your neighbor as yourself," she says.  "If we can do that, we can glorify God in our music, and that is our mission."
Used by permission.  CCM Magazine © 2002
Have something to say about this article? Leave your comment via Facebook below!
advertise with us
Example: "Gen 1:1" "John 3" "Moses" "trust"
Advanced Search
Listen to Your Favorite Pastors