Happy Endings
Stephanie Ottosen, Contributing Writer
Tuesday, November 25, 2003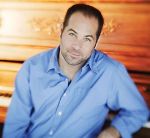 Mark Schultz is a stickler for being on time and is prompt, as usual, arriving at 4 p.m. on the dot. Comfortably dressed in khakis, a gray T-shirt and a University of North Carolina baseball cap, this singer/songwriter is still the same friendly, approachable Kansas boy with the Southern drawl fans have come to love … despite his uncharacteristically direct and abrupt launch into everything from the past to a conversation he had earlier that morning.
But since his sojourn from touring and work on his third album has left time for the mundane (such as home improvements on his first house) and the lofty (such as these types of discussions), Schultz has had quite a bit on his mind and an urgency to talk about it.
When asked if the traveling life after four years as an official "artist" has given him this need for camaraderie, mentoring and community, the singer/songwriter replies, "You can write songs and perform them on the road. But at some time, when I'm on my deathbed and someone asks me, 'What do you regret?' I don't think I'll ever say, 'I should've done one more concert.' I think I'll say, 'Man, there are so many people I didn't get to know. There are so many stories from people's lives I didn't get to hear.'"
Hearing stories may be a pastime but telling them is what fans of Schultz would probably say he does best. Coming straight out of the church after eight years as a youth pastor in Nashville (including the two years when he served as youth pastor and artist), Schultz was "discovered" after performing at a self-organized and produced benefit concert at Nashville's famed Ryman Auditorium. From there, Schultz earned a recording contract and was soon churning out hits like "I Am the Way," "He's My Son" and "Remember Me."
But hit songs are the least of what Schultz wants to discuss this sunny afternoon.
"What will you do with the time that is left?" Schultz asks in "Time That Is Left" from his Brown Bannister-produced "Stories and Songs" (Word). And that's the question that has seemingly pervaded almost every conversation since work on the new record began. Take today, for instance. As Schultz settles in with his non-fat latte, he relays a conversation he had with a music industry friend earlier that morning. "He hadn't heard that his dad loved him, and he's [the friend] now in his 40s," says Schultz, shaking his head. Just that day, his friend received a birthday card from his father saying how proud he was of his son and how sorry the father was for missing out on a relationship because he didn't believe in his son.
"So we talked about that — we spent an hour and half talking about that," Schultz says. "And he said, 'You know, it's the first time I've spent time with anybody in the music business where it hasn't been, "Hey, buddy, how's it going? Everything's cool.' And, man," Schultz says, "I want to be about that kind of stuff. It just seems like there are people that could really benefit from that."
And many have. In the ensuing hour-and-a-half conversation, Schultz relays at least four or five more stories of conversations along those same lines. Schultz says these in-depth conversations with others, where he's discussed what he and author John Eldredge in bestseller "Wild At Heart" call a person's "story," have resulted in emotional healing or strengthening — whether in himself or the other person.
"So much of my story is like the guy who thought he was a screw-up his whole life and [who was] finally able to pull that out. … And that's the lesson I've learned over the last two years. I'm the kind of guy growing up that got my validation from other people. I hope people think I'm funny; I hope they think I'm interesting; I hope they think I'm a great songwriter." As if to illustrate his point further, Schultz reflects on his own healing after John Eldredge exhorted the audience (at a "Wild At Heart" retreat) to stop getting their validation from others.
Have something to say about this article? Leave your comment via Facebook below!
advertise with us
Example: "Gen 1:1" "John 3" "Moses" "trust"
Advanced Search
Listen to Your Favorite Pastors