"Happy" - Music Review
Anthony DeBarros

CCM Magazine

2004

10 Mar

COMMENTS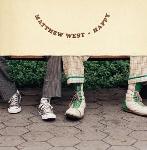 Artist:   Matthew West
Label:  Universal South
You've got to appreciate someone with the guts to sing, "I am a classic case of dysfunction!" Matthew West serves up that wry observation — and a few others — about life and faith on his debut, "Happy."
Cut from the same alt-rock singer/songwriter cloth as Shaun Groves, Jason Mraz and John Mayer, West demonstrates a knack for radio-friendly hooks with a voice that resonates like Delirious' Martin Smith's or slightly more mellow like Jeremy Camp's. That factor gives songs like "The Turnaround" one of those choruses that's utterly singable in a driving-in-the-convertible-with-the-top-down sort of way. Same goes for lead single "More," which shifts with ease from melancholy, piano-driven Brit-rock to a big fuzz-guitar chorus.
Still, it's hard not to feel that "Happy "comes off sounding a bit constrained. The drum loop and hip-hop intro to the title track had me anticipating more of that street-wise hipness, but the album largely rides on fairly ordinary alt-rock arrangements. Drawing on more diverse stylistic elements (something another new singer/songwriter, Paul Wright, does exceedingly well) would have elevated this good album to sonic greatness.

© 2004 CCM Magazine.  All rights reserved.  Used with permission.  Click here to subscribe.