Hawk Nelson Reflects Back and Looks Forward
Matt Conner, CMCentral.com
Thursday, December 31, 2009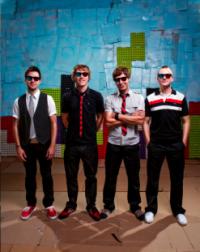 Daniel Biro told me later in our conversation that 2010 is sizing up to be the year of honesty for his band, Hawk Nelson. The pop punk sounds of the band have kept things fun for years and the laughter hasn't died down after four studio albums. The quartet is, however, ready to tell the truth about anything and everything.
Thus, it didn't take long before Biro threw me a curveball about the band's latest tour and his least favorite album in the Hawk Nelson discography. It's a refreshing conversation that lends insight into the band and the heart behind their latest, Live Life Loud.
CMCentral: How goes the tour? What's it bringing for Hawk Nelson in particular?
Daniel Biro: [Laughs] I would say it's bringing challenges for Hawk Nelson.
CMCentral: Really? What makes you say that?
Daniel: Yeah, it's a real hard rock tour with Decyfer Down, The Letter Black and Skillet. They're all in that same vein. It's weird because we might go from playing some other tour like Winter Jam or MercyMe's Rock and Roll Road Show, where we're the younger or louder rock band. Now here, we're the softies. We're the break in the night. [Laughs] It's so funny.
But I do think it's a really cool thing. If it were all four bands playing the same thing, it would be overkill. So I think it brings a good amount of diversity.
CMCentral: How's the crowd response?
Daniel: For us, it's been really hit and miss. For Skillet, they have an amazing show and I really look up to the way they program their whole show with production and everything. It's just amazing. Every night is awesome. With us, we're not so production-heavy so it's a matter of whether or not the crowd gets us or not. There are pockets where people do not like us. In the Northeast, that was really challenging. [Laughs]
CMCentral: Seriously?
Daniel: I thought we were going to get booed offstage.
CMCentral: Any cities in particular?
Daniel: Well, the whole area really. [Laughs]
CMCentral: So what plays well for you guys?
Daniel: I always have favorites for fans and crowd participation and energy. That would be Oklahoma, California, Minnesota. I don't know why. They're not even close to each other, so it makes no sense.
CMCentral: [Laughs] Yeah, that's not the most strategic tour to put together.
Daniel: [Laughs] Yeah, it doesn't make any sense.
CMCentral: Looking back, how pleased are you with Live Life Loud?
Daniel: We're really proud of it as a whole. I think it's hands down my favorite record we've done. And I can be honest and say the last record we did was my least favorite. But this record really is my favorite. I think it's showcasing a more personal and honest side of the band, which is important I think.
Whether or not people have connected with it, I don't know yet. The responses have all been positive from what I've heard. I haven't heard too much negative criticism, and yet we could use some of that. We could use someone telling us to break out of our genre or push us. If everyone says it's just good, that won't be good for us in the long run.
CMCentral: What makes Hawk Nelson Is My Friend your least favorite?
Daniel: Well, we were on tour and what would happen is that our drummer would fly to New Jersey to record the drums between shows. Then I would go in when he was done. Then Jon and Jason would also do the same. We were never there at the same time. There was no camaraderie. There's no energy from feeding off of one another. It's just a real stale way to make a record.
Have something to say about this article? Leave your comment via Facebook below!
advertise with us
Example: "Gen 1:1" "John 3" "Moses" "trust"
Advanced Search
Listen to Your Favorite Pastors