Hip-Hop: Rhyme Scene Investigation
Andree Farias, CCM Magazine
Tuesday, May 01, 2007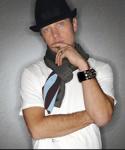 For mainstream rap pioneer Nas, "hip-hop just died this mornin'' and she's dead, she's dead."
But the truth is, hip-hop is alive and well. At the mainstream level, the genre continues to yield sizable dividends – in 2006, it accounted for 10 percent of all album sales.

By comparison, Christian hip-hop is a mere drop in the bucket. And here's proof: Of the almost 40 million albums sold in Christian and gospel music in 2006, a little less than 500,000, or roughly 1.2 percent, were hip-hop discs. That's barely enough for an album to be certified Gold.
But hip-hop's difficulties are not limited to the retail side; radio airplay of faith-based hip-hop music has also been scant. Of the Top 20 songs of 2006 in the CHR – or pop – format according to Radio & Records, only one song, perched all the way down at No. 19, had a bit of a hip-hop flair to it: tobyMac's "Welcome to Diverse City."
Incidentally, that's not tobyMac's only accomplishment in 2006; his 2004 release, Welcome to Diverse City (Forefront), was also the bestselling "hip-hop" album of 2006, a title he's held for three years in a row.

"[The numbers] break my heart, because I think there's great hip-hop in our market," says tobyMac, an artist who, by his own admission, doesn't think of himself as a hip-hop artist, at least in the strictest sense of the term. "My music is pop music that leans hip-hop. I don't think the same people that buy my records are buying straight hip-hop."
But even if that's the case, straight hip-hop buyers don't seem to be making a lot of noise of their own, at least in terms of driving sales. This less-than-golden performance furthers speculation about the state of Christian hip-hop today. And for those seeking clarity, the answers seem to be as varied as the genre itself.
"The business is getting a little more open, but there's still a lot that needs to be done," says Teron "Bonafide" Carter, one-half of GRITS, the most popular rap group in Christian music. "It's almost kinda too late for [that to happen]. We ourselves don't even look at it as Christian hip-hop, because, honestly, on paper, it doesn't even exist. On radio, it doesn't exist. In the media, it doesn't exist. So to us, it's just hip-hop. We don't need a label to sell the music. As a true artist, you don't have to have a title to get people to buy what you do. That's the way we look at it. There've been some changes, but there still have to be a lot more changes."
West Coast rapper T-Bone thinks things are getting better in terms of acceptance of the genre, but he believes the hotness level is not up there.
"I still feel there is a lack of quality in the music put out in the industry," he says. "Christian rap is still years behind as far as talent goes. Yes, there are some good rappers out there, but, for the most part, most of what I hear is not innovative or lyrically creative."
"There are a lot of good artists putting out quality music, something that speaks directly to the soul of a person," says rap newcomer Soul P., whose Beatmart Records debut, The Premiere, released in December. "[But] then there are artists who I feel put out music just to try and sound like a good Christian and it ain't honest and it falls on dead ears."
KJ-52 – second after tobyMac in terms of solo popularity – believes up-and-comers have a hard time making it because they treat hip-hop as a game to be played, rather than a job to be done.
Have something to say about this article? Leave your comment via Facebook below!
advertise with us
Example: "Gen 1:1" "John 3" "Moses" "trust"
Advanced Search
Listen to Your Favorite Pastors