Hip-Hop: Rhyme Scene Investigation
Andree Farias, CCM Magazine
Tuesday, May 01, 2007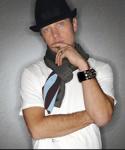 But not all the labels show the same level of enthusiasm in embracing hip-hop acts. This hesitance has motivated aspiring rap artists to remain on the fringes – either signing to fledgling hip-hop labels or staying autonomous altogether.
"Not many larger labels seem to be picking up new hip-hop right now," says veteran artist Verbs, himself a free agent of sorts. "But I guess, at the same time, new groups are seeking to take more of an independent route. I don't see this as a bad thing at all, since hip-hop music and the culture it stems from cultivates well at the grassroots level."
Joey Elwood would agree with Verbs. As president and co-founder of Gotee Records alongside tobyMac, he understands that hip-hop, before it became a business, was a culture, one predicated upon hard work, word-of-mouth and backpacks full of CDs.
"Hip-hop, as I grew up knowing it, happened at the grassroots," says Elwood. "Kids coming up in the hip-hop game right now are not seeing good examples of how to run a business. There are exceptions, of course, but in general, the 'build-it-and-they-will-come' model is the predominant business philosophy."
This ideology is the one perpetrated at the macro level by the 50 Cents, the Eminems and the P. Diddys of the world. To them, hip-hop is about walking into a recording booth, making a hit single and reaping the multi-million dollar benefits. The budgets are gargantuan; the touring, nonexistent; the accountability, minimal.
But as a subculture that exists within another subculture, Christian hip-hop – with its tiny balance sheets, uncooperative radio stations and limited media exposure – can't and won't subsist if it follows that same pie-in-the-sky blueprint; it needs a blue-collar mentality.
"I'm a firm believer that the business ethos of hip-hop has to change in order for it to stay in the hands of the people who made it great … the people," says Elwood, who admits to having a hard time finding new, fresh talent with this type of mindset.
"When artists begin to provide the right kind of product along with going out there and working hard and doing what they should be doing, the profile [of hip-hop] will raise on its own," says KJ-52.
Get more emcees who think that way, and Christian hip-hop, tobyMac believes, would spread like wildfire. After all, that's how hip-hop culture exploded at the mainstream level: with a few cats who grew in strength and influence and then began to cross over.
Still, tobyMac says the extra push from the powers-that-be wouldn't hurt.
"Retail and radio are going to carry what we sign," he says. "The day that everybody is signing it – the day Sparrow is signing it, the day Provident is signing it, the day Word is signing it – that's the day when urban culture will be properly represented. It's nice to have other people blowing the whistle at the same time."




© 2007 CCM Magazine. All rights reserved. Used with permission. Click here to subscribe.



Have something to say about this article? Leave your comment via Facebook below!
advertise with us
Example: "Gen 1:1" "John 3" "Moses" "trust"
Advanced Search
Listen to Your Favorite Pastors