How the West Was Won
Jay Swartzendruber, CCM Magazine
Monday, January 26, 2004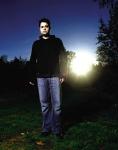 Picture yourself at 23. You're a believer, you love music and want to start your own record label. But you don't want to create just any record label — rather, a modern music company that signs all sorts of underground and alternative artists. Not only that, you want these fringe musicians to be Christians. Oh, and one more thing — these bands will make music for the world at large, not just church youth groups like the one you grew up in.
Now, before simple logic kicks in, you ask the nearest bank to front you a loan for thousands of dollars to start this company. The bank responds, "Not on your life, buddy." Undeterred, you then have the audacity to find your fairly well-off grandpa and ask him to loan you the thousands. And, for crying out loud, grandpa forks up the cash!
Skip ahead 10 years. You're still in business, selling millions of records, and your company has been the most influential pioneering label for indie rock, punk, ska and hardcore music in the Christian community. Scattered around the world are small mobs of hard-to-impress teens and 20-somethings who consider you an icon of rock. And you're not even one of those Christian pop-stars-turned-label-heads. What gives?
Did we mention your name is Brandon Ebel, and your label is Tooth & Nail Records? Tooth & Nail has introduced the world to MxPx, O.C. Supertones, Zao, The Juliana Theory, Plankeye, Starflyer 59, Joy Electric, Further Seems Forever, Project 86 and more recently, Jeremy Camp and Kutless, among many others. In the process the company has created exposure for its artists in the mainstream market that is so consistent, it's unparalleled among faith-based labels.
Ebel had seen innovative but quickly fading entities such as Exit Records (The 77s, Charlie Peacock), What? Records (Tonio K, Ideola) and R.E.X. Music (Circle of Dust, Sixpence None the Richer) move beyond the traditional borders of Christian music. But unlike these predecessors, Tooth & Nail has made a habit of stepping across these lines while managing to thrive as a company. From airplay on college radio and commercial alternative radio to rotation on video outlets like MTV and MTV2, Tooth & Nail artists have been entering the mix, while most Christian labels have had trouble getting a foot in the door.
"There was a certain childlike simplicity and matter-of-factness to Brandon's approach to the wall of separation that once kept music made by Christians out of the mainstream," says Mark Joseph, founder of rockrebel.com and author of "Faith, God & Rock & Roll" (Baker). "It was as if he stood on top of the wall and said to the secular side, 'Hey, there are some really cool bands over here made up of Christians who play good music. You wanna hear 'em?' And then he told the other side, "There are some non-Christians over here who wanna hear your music. Wanna play it for them?' He didn't seem to understand that this had been attempted unsuccessfully for years by many or that it was a difficult thing to do. He just did it."
Though born in Dallas, Texas, Ebel spent his childhood in Portland, Ore., where his father is the long-time pastor of Rolling Hills Community Church. "His church started with four families in a basement in the '70s and now has 5,000 members," explains Ebel.
Music connected with young Brandon immediately. "When I was 2 and 3 years old, I would sing as much as I talked," he reveals. "And I loved stereos. When my parents would go to a friend's house, they would have to talk to me and say, 'Don't touch the stereo.' Even though I wasn't allowed to touch it, I would go stand as close to it as possible."
Have something to say about this article? Leave your comment via Facebook below!
advertise with us
Example: "Gen 1:1" "John 3" "Moses" "trust"
Advanced Search
Listen to Your Favorite Pastors