Hymns: All Things Bright and Beautiful
Gregory Rumberg, CCM Magazine
Tuesday, April 19, 2005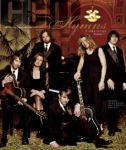 Following up her 2002 project, "Legacy … Hymns & Faith" (Word), Grant will release her second hymns record this spring. She says this project consists of songs she sang growing up in the Church of Christ tradition. "These hymns mean a whole lot more [to me today], having lived a lot of life," Grant says. "Even though I loved these hymns at 18, I feel today like my soul just breathes a deep 'Amen' to all of it now."
A Firm Foundation
On "Precious Lord, Take My Hand," from Ashley Cleveland's recent February release, "Men and Angels Say" (Rambler), the blues-inspired licks of a lone steel guitar make known this isn't what grandma remembers of Dorsey's famous text. Likewise, Cleveland's gospel-arranged "What A Friend We Have in Jesus" shuns sentimentality, replacing it with a stout spirit for celebrating, "Precious Savior, still our refuge, take it to the Lord in prayer."
Cleveland speaks convincingly about hymnody's powerful draw to God. She remembers leafing through hymnals as a child who didn't want to be in church. Years later, as an adult, those words would thankfully return to her. "I grew up in the Presbyterian church; but then over time, my life got as far from the church as a person can get, and I ended up being fairly strung out on alcohol and drugs," Cleveland says. "But the thing that would happen to me when I was very, very ill — these songs would come to me at the strangest moments.
"It was like a reminder that there was a God who loved me. It seemed to me that He was calling me back to Him," she continues. "These songs have pierced my soul in a way that no other music ever has touched me."
Near her Franklin, Tenn., home Cleveland now attends a Presbyterian church that blends modern worship music with church hymns, and she hopes other churches will try that approach. But Cleveland aims, too, to find inroads into places where these songs aren't typically heard. "I still play clubs on occasion, and the audiences are decidedly mixed, believers and non-believers, people from all walks of life," she describes. "I have yet to go in and play my set — which is always going to include at least a couple of hymns — and not have someone come up to me to specifically comment on a hymn. More often than not, I have people come up to me in tears, saying, 'I haven't heard that song in years,' telling me briefly that it was a connection for them."
Faith and Hope
As hymns connect us to our past, they provide a shared language across denominational and cultural lines. To that end, these works help shape visions for transforming the future. While traveling internationally [thus making a face-to-face interview and participation in CCM's cover story photo shoot impossible] Out of Eden's Lisa Kimmey tells via e-mail about the trio's experience at a Focus on the Family chapel service. "We sang a couple of hymns; and, all of a sudden, it was forgotten that we are a pop/R&B group," she says. "Our ethnicity, gender and style didn't seem to matter anymore. There was something very special about being able to communicate without expectation."
The experience set Lisa and her sisters, Andrea Kimmey Baca and Danielle Kimmey, down a path toward creating a present-day record grounded in shared experiences. Growing up, Lisa says she remembers singing classics like "Praise to the Lord, the Almighty" and "Fairest Lord Jesus," each recorded for Out of Eden's March 29 release, "Hymns" (Gotee). Though she and her sisters grew up in a charismatic church that didn't sing hymns often, the women were exposed to hymns through their grandparents' African Methodist Episcopal church in Richmond, Virginia.
Have something to say about this article? Leave your comment via Facebook below!
advertise with us
Example: "Gen 1:1" "John 3" "Moses" "trust"
Advanced Search
Listen to Your Favorite Pastors