Israel Houghton: One Man, One Passion
Andrew Greer , CCMmagazine.com
Wednesday, April 08, 2009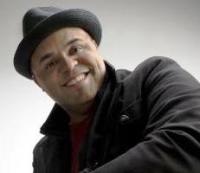 We have the ability every morning to decide, "I'm going to do something for somebody else. I'm going to live a life today for others."
CCM: I've heard you say you were a "black kid who grew up in a white family in a Hispanic neighborhood." Sounds like you lived diversity. How do you incorporate your own cross-cultural influences into your music and message?
Israel: It's almost subconscious now. Even though my parents were the pastors of the church, and it was a bit of a strict environment, when it came to music, my dad was very loose. I was influenced by Andrae Crouch and The Beatles, by Keith Green and The Eagles, Motown, Stevie Wonder, classic rock. So musically, it was this multiple-stream thing coming into my conscious all the time.
I remember this pastor said, "I really like it when you do your black sound." With a smile, I answered, "Pastor, when we're all around the throne singing to God, 'Holy, Holy, Holy is the Lord God Almighty!' are you gonna' be in the more black section of that? Or the white or the easy listening section?" He laughed. He realized this is ridiculous when you think about it.
I believe I am existing in this generation to help the church worldwide see that we don't have to wall ourselves off and say, "This is how we do it, so we're just going to do it like this." Worship is not for us. It's not about, "What can I get out of this moment?" It's about offering. It's about sacrifice.
CCM: You are involved as a worship leader at Houston's Lakewood Church. What is your response to the criticism your senior pastor, Joel Osteen, has been receiving from Christians–those in the body of Christ?
Israel: I believe that a tree is known by its fruit. And when God blesses something, I'm gonna' go with whatever God has put His hand on, not what people have said could not possibly be right.
People who have not been in church forever, or people who have been disillusioned by church, are coming back to God. They're not coming to Joel. They're coming back to God. And they're being introduced to the grace of God like they've never seen or heard it before.
CCM: How is the "Hello Love Tour" going with Chris Tomlin?
Israel: I'm having the time of my life because I almost feel like a new artist again. I get in front of 75 percent of people who don't know who I am. They know the songs because they sing them in their churches, but they've not made the connection.
Three songs in I'll go, "OK. Let's get this out of the way. How many have no idea who we are?" Half the arena lifts their hands. [Laughs]
And suddenly, we're cool. We've connected. And because, stylistically, we're coming at [it from] a little different angle than Chris does, we're introducing our audience to him, and he's introducing his audience to us. It's beautiful when it's all said and done to watch the church come together under the same banner of, "We're just gonna' worship God."


For more information, visit israelhoughton.net. Also, be sure to visit Israel's new social justice site, didyoumakeyourmark.com, where fans are encouraged to be "the power of one" and share videos about what they have done to create positive chance in their communities.


© 2009 CCMmagazine.com. All rights reserved. Used with permission.



**This interview first published on April 8, 2009

Have something to say about this article? Leave your comment via Facebook below!
advertise with us
Example: "Gen 1:1" "John 3" "Moses" "trust"
Advanced Search
Listen to Your Favorite Pastors