Jeremy Camp: Love Beyond Measure
Douglas Kaine McKelvey, CCM Magazine
Tuesday, April 10, 2007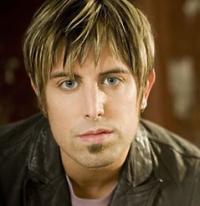 Writer Aleksandr Solzhenitsyn endured eight years of prison camps and another three of exile in Stalinist Russia, suffering through isolation, deprivation, malnourishment and near-fatal stomach cancer. Years later, in looking back on his life from a very different vantage point, he composed a prayer that included the following lines:
Atop the ridge of earthly fame,
I look back in wonder at the path
Which I alone could never have found,
A wondrous path through despair to this point
From which I, too, could transmit to mankind
A reflection of Your rays.1
And this is where our story has to begin. Because while we could talk for some time about the sudden rise to popularity of Jeremy Camp as a performer – the string of massive No. 1 hits from his first three studio recordings, the headlining tours, the film soundtracks he's showing up on, the Dove Awards he's garnered, the excitement over his new album "Beyond Measure" (BEC) – none of these can be fully appreciated apart from the story of who Jeremy has gradually become, as a husband, a father, an artist, a minister and a follower of Christ. Camp's story is one that includes both hard providence and severe mercy. And, like Solzhenitsyn's, it's been a "wondrous path through despair."
Walk by Faith
Jeremy's fans are, for the most part, aware of the loss of his first wife, Melissa, to cancer several years ago. It was out of that season of brokenness and confusion that Jeremy wrote and recorded his debut album, "Stay." But what fans might not realize is the degree to which the lingering imprint of brokenness continues to shape and define Jeremy, giving him an added depth of compassion even as he celebrates the new joy he has with wife Adie (former singer for The Benjamin Gate and now a BEC solo artist) and their two young daughters, Isabella and Arianne. He seems to have learned through his own experience what it means to rejoice with those who rejoice and mourn with those who mourn because, in his own life, he's had the opportunity to do a lot of both.
"It's funny," he says, "Unless you really experience certain things in your life, it's hard to relate. … I don't want to be someone who goes places and sees things that really pull on your heartstrings and it's like 'Wow, that was really intense, that really pricks something in my heart,' and then walk away, and when you're out of the situation you forget. I don't want to forget."
The roots of Camp's empathy run deep. Growing up in Indiana, the oldest son and second-oldest kid in a family of six, Jeremy remembers his parents' active engagement in ministry. Sometimes Camp would accompany his father on visits to prison or to a boys' home to share the love of Christ with inmates and troubled kids. Though his dad didn't formally become a pastor 'til Jeremy was 14, the passion with which his parents pursued God's work, even in those early years, sometimes meant the family had to live on faith.
"Because my dad was constantly ministering," he says, "there were times when we wouldn't have groceries, and my dad would say, 'Just pray, and God will provide.' And being a kid you'd just say, 'Okay.' You just don't really know what's going on. And then you find groceries on your front doorstep. So I think – for me – that was a huge example and the preparation for a lot of what God was going to do in my life in the future."
Have something to say about this article? Leave your comment via Facebook below!
advertise with us
Example: "Gen 1:1" "John 3" "Moses" "trust"
Advanced Search
Listen to Your Favorite Pastors