Jeremy Camp: Love Beyond Measure
Douglas Kaine McKelvey, CCM Magazine
Tuesday, April 10, 2007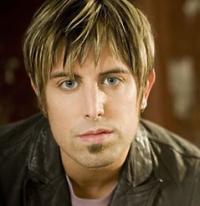 Burden Me
Further preparation of Jeremy's heart for ministry came about because of his youngest brother, Josh. Josh, now 18, was born with Down's Syndrome, and Jeremy's concern for his baby brother throughout their growing-up years translated into a real desire to extend mercy to "the least of these."
"I would drive by and see someone who has Down's Syndrome sitting on a park bench waiting for the bus, and I would seriously start crying, wondering what his life is like," Jeremy says. "Because I know some people don't have compassion for people who are disabled mentally.
"If I see a family who has a child with Down's Syndrome or who's disabled in some way … I make it a point to always say, 'Hey,' and show some kind of compassion because I know how much of a difference it can make. My heart really does go out. It's not just trying to be nice to somebody. My heart goes out because I've experienced that."
Some who know him well would argue that, beneath the music career, Jeremy's heart has always been a pastor's heart anyway. Several months ago he actually received a ministerial license through the Calvary Chapel network of churches. His now-official status as a minister was the result of two years at Bible college, as well as the consensus of local pastors and elders that he was ready to take on a more visible ministerial role. As to whether that means he'll eventually be on staff at a church somewhere, Jeremy says it's likely.
"I don't know exactly when or how or what, but it's always been my heart," he explains. "I definitely feel like, even right now, that I'm a pastor in a different way. Not the typical pastor of a church. But I know I have to share my heart. I have to share what God's been doing in my life because He's given me that platform to do it. If there's any way I can share Christ with somebody, I'm going to."
Believing that his responsibility to model Christ has to begin with his own children, Jeremy made several proactive choices to maximize family time. First, he and Adie settled in Jeremy's hometown of LaFayette, Indiana, where they knew there would be plenty of family support. Shortly after his first daughter, Isabella, was born, Camp realized he needed to permanently restructure his touring habits to avoid long stints on the road. More recently, he built a recording studio close to home. And when he had to leave town on several weeks of the "Beyond Measure Tour," he just loaded the family up and took them all with him.
"It was tiring," he says of life on a tour bus with a baby and a two-year-old in tow, "but I'd rather be tired and have my family with me and be able to wake up and see my kids and my wife. It was great to be on stage and have that settling feeling that they're right there on the bus sleeping. My little daughter, Isabella, had fun, too. She loved [tour mates] Hawk Nelson. She would dance every night at the side of the stage."
Jeremy plans to use his new studio as a place to write with other artists, with an eye on expanding his role further into producing and engineering. Camp's first fully-self-produced cut, a cover of the hymn "It Is Well," appears on the recently released "Music Inspired by the Motion Picture Amazing Grace" (EMI/Sparrow) soundtrack. He was also able to co-produce Adie's solo record, "Don't Wait" (BEC), there.
"To see her pour out her heart," Jeremy says, "to be involved with the songwriting process … was great, because it's a different side [of Adie] that I haven't been involved with before. I think it brought us that much closer, working through our differences musically. Her grace with me was amazing."
Have something to say about this article? Leave your comment via Facebook below!
advertise with us
Example: "Gen 1:1" "John 3" "Moses" "trust"
Advanced Search
Listen to Your Favorite Pastors