Jeremy Camp: Love Beyond Measure
Douglas Kaine McKelvey, CCM Magazine
Tuesday, April 10, 2007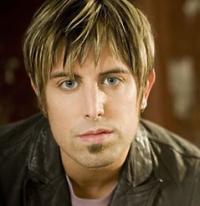 Take a Little Time
In early 2006 Jeremy took the whole family and traveled to South Africa for the first time to get a glimpse of the world his wife grew up in. He was able to meet Adie's friends, experience her culture and learn "how to love her more."
"It was so awesome to take Jeremy to South Africa," recalls Adie, "to show him my home, and where I grew up and how beautiful my country is." While there, they stopped at an AIDS orphanage.
"Jeremy and his dad played with the kids, sang songs and made them laugh," she says. "It reminded me of when I first met Jeremy – I was blown away by his faith and his heart for people, and no matter who he talks to, he's always the same to everyone."
"That was tough," Jeremy remembers, "because I hadn't seen the effect of AIDS before."
The orphanage staff led the Camps to a room where a little girl was suffering. "They said, 'She's not gonna make it,' and I'm just holding this baby, and I just wept," Jeremy says, "because I'm like, 'Oh my goodness, she is my daughter's age.' And to think this happens all the time. It's a reality."
"I think, in many ways, seeing people in hard situations is very humbling," says Adie, "and we try to live that scripture that says we need to take care of the widows and the orphans and know that as believers it is our responsibility to do so."
Jeremy's first exposure to the realities of Third World poverty had come a year earlier on a Compassion International trip to Honduras. Before the trip, he says he would have agreed with the scriptural mandate to care for widows and orphans. But seeing, firsthand, the extreme need and the life-changing impact a few dollars a month makes, made him passionate about personal involvement.
Jeremy describes a life-changing encounter in Honduras: "These people were basically living on garbage," he says. "We went into a shack that had 12 people living in it, and there was a boy there who was 14, and he weighed maybe 45 pounds because he had spinal meningitis when he was a baby. … His parents couldn't do anything but wait for him to go be with the Lord. We laid hands on him and just prayed for him, and I said, 'Hey, one day you're gonna be with Jesus. No more tears, no more sorrow, no more pain.' And I just wept. It's hard for me to see that anyway because I've experienced death and experienced that kind of thing, and it's tough."
That same intermingling of temporary sorrow with eternal hope has long been evident in Camp's writing. In fact, if you look at his body of work, there seems to be an almost circular connection between his first project, "Stay," and his most recent, "Beyond Measure."
Like a Storybook With Dreams
"I remember when I first started [writing and recording 'Stay']," Jeremy says. "I was so broken. I just remember being in the pit of despair in my life when Melissa died. I remember saying, 'Lord, I don't know what to do. This is confusing. I'm hurting. My heart is broken. I feel so empty and weak.' And having Him say, 'Perfect. Now I can use you. I'm going to be the one that fills you up. I'm going to be the one that walks through with you and gives you the strength and gives you the words to say and the songs to sing.'"
Now Jeremy seems to be resting in a new kind of brokenness: this time, a brokenness that comes from a grateful and amazed recognition of God's unwavering presence and faithfulness. It's the joyful brokenness that comes from catching a glimpse of the longed-for redemption of our tears. And it's where the title song of his new album, "Beyond Measure," was born.
Have something to say about this article? Leave your comment via Facebook below!
advertise with us
Example: "Gen 1:1" "John 3" "Moses" "trust"
Advanced Search
Listen to Your Favorite Pastors