Keeping Christmas
Tori Taff, Contributing Writer
Wednesday, December 24, 2003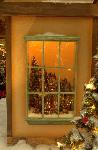 "I will honour Christmas in my heart, and try to keep it all the year."

— Ebenezer Scrooge, A Christmas Carol by Charles Dickens
There's no time like Christmas time! Everywhere we go we're surrounded by the season. In our homes, decorations are hauled out and hung up. In the  malls, glittering store displays and nonstop holiday Muzak compete for our attention. In our churches, bath-robed children with homemade shepherd crooks rehearse for the Christmas play. People are nicer to each other, hold elevator doors and say "Merry Christmas!" to strangers. And most importantly, our faith is renewed as we once again celebrate the birth of our Savior.
Yes, Christmas is truly a time filled with memories — the ones we treasure and the ones we're making. And then it's over.
Every January, the magic fades and we settle into the new year with all the day-to-day stresses, messes and blessings life brings. Christmas is relegated to the boxes we carry back down to the basement, the extra pounds and credit card debt we plan to get rid of, and the faint anticipation of next year's holiday.
Maybe it doesn't have to be that way. Maybe this year we can make a vow to honor the Spirit of Christmas all year long.
In this, our very first Homecoming Magazine Christmas issue, we've tried to express just a few of the many ways we can all "keep Christmas." Some of your favorite Homecoming Friends share their traditions, memories, recipes and poems. There are fresh ideas to add to the beauty of your home, and words of wisdom to add to the beauty of your soul.
As you enter your own time of seasonal celebration, our prayer is you will seek and find something to keep with you for the rest of the year. For He has truly blessed us all, every one.

Keeping Christmas … Close to Us

Treasured memories of Christmas past, the brimming joy of Christmas present, and heartfelt prayers for Christmas yet to come … Homecoming Friends, in their own words, share some personal thoughts about their favorite holiday.
Connie Hopper
Growing up in the '40s on a farm in North Carolina, I remember that Christmastime was always special, a time when Daddy would go out and kill the old red rooster and Momma would cook him up and make the best dressing I think I've ever had. And Momma would make about eight cakes and we could eat all the chocolate cake we wanted. We got together on Christmas Eve and we would always sing. And after we'd had a meal and opened the gifts and visited a while, we'd gather around the piano and sing. Singing is special, especially when you're singing about the Savior.

Ivan Parker
One thing I've noticed is how easy it is to get caught in the fast lane. We get to the point where we are so busy building a career and a ministry that we overlook the ones we love most, our families. We are running so fast all year and then all of a sudden here it is, Christmas time, and we hadn't even realized the year had passed! We have always driven home to North Carolina to spend Christmas with all our family, and it's such a blessed time together. But as we have grown a little older and our kids are getting a little older, we have started making it a point to go home as often as we can. And it's the best decision we've ever made.

Jessy Dixon
I think of the time I was singing concerts in Calcutta, India during the Christmas season. They wanted me to sing "Silent Night" and other holiday songs but didn't want my testimony, because I say Jesus is God. Then I went to Kenya and sang a concert for the President of Kenya. I actually got heckled while singing, because again, I said Jesus is Lord. I went with Paul Simon to Jerusalem to perform in the outdoor amphitheatre at Caesarea, and I sang "Oh Come All Ye Faithful." You know, the whole world sings these songs but they don't all believe that Jesus is God! And I'm very serious about this — our responsibility as Christians who do believe it, is to say it out loud every day, to proclaim who Jesus really is.
This is such a great time of year.
Have something to say about this article? Leave your comment via Facebook below!
advertise with us
Example: "Gen 1:1" "John 3" "Moses" "trust"
Advanced Search
Listen to Your Favorite Pastors