Keeping Christmas
Tori Taff, Contributing Writer
Wednesday, December 24, 2003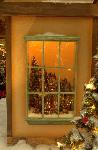 It's wonderful to sing and celebrate Christmas, to tell the story of baby Jesus — but this is really nothing more than a foundation. Yes, there was a baby born in Bethlehem, but guess who He is! That baby Jesus is Lord of all.
Amy Gaither Hayes
We're learning that even though traditions are important to us, the fact of the matter is, life changes. And people change; people die and the house that we used to do things in isn't there anymore, and the people that used to cook are gone now, or can't cook anymore. Some of us have moved away, and we're starting our own traditions with our own families. So maybe we can't all be together on Christmas morning like when we were little. Things do change, and guess what — the world doesn't fall apart. And not only that — it turns out that Christmas is very portable! You can take it with you wherever you are. It doesn't have to be "the way it's always been" to be wonderful.
But I don't feel panicked anymore about the thought of everything changing. God has given me such a peace about it all. The important things are still intact. Our connections to one another haven't lessened; in fact they've strengthened. So wherever Christmas is this year, and whatever it looks like, I know it will be all right. The traditions will still be alive whether we get to practice them all together or not. And it'll still be Christmas.
(Although I'm really going to be bummed if I don't get to have mom's chipped beef and gravy with homemade biscuits — I've been craving that all year!)
Guy Penrod
We like to teach our boys that the most blessed thing to do is give. One year, our church had in about 50 of the local children and their mothers and fathers who didn't have quite as much. We came together as a church and enabled our children to buy gifts and coats and toys for them and to have a special Christmas party for them. I think that's one of the most memorable Christmases we've spent as a family.
Lily Isaac
Being raised Jewish, my family never celebrated Christmas, but I was always fascinated by it. Christmas in New York is the most festive, beautiful time of year. We would always head in to Manhattan and go look at Macy's windows and the Christmas tree in Rockefeller Center and the ice skaters. To me, Christmas was just a beautiful holiday where people gave gifts and were happy. Since I accepted Jesus into my heart in 1971, Christmas has been so incredibly special to me. I had never had a Christmas tree in my life. But when Ben, Sonia and Becky got old enough to see that other people had trees, we decided to get one. I was panicked because I had no idea how to decorate a Christmas tree. We went out in the woods and cut down a tree, went home and made our own ornaments of tinfoil, Fruit Loops, you name it. It looked so terrible! It was our "Charlie Brown Christmas tree."
We still put one up now; I also have my Hanukkah menorah for the Festival of Lights — they occur the same time of year, so we celebrate both. I let my grandson Levi light the candles for eight days, and we tell the story of Hanukah, and say special prayers. I'm so very glad that I am a Christian and that Jesus is my light. Now I truly understand what Christmas means, but I still light the menorah. I want my kids to know their heritage.
Mark Lowry
I don't think it was an accident that God sent His son as a baby, not a full grown man. Just like every other baby, Jesus was fragile and needed to be protected. But He grew into a man who knew who He was and why He was here. My wish this Christmas is that I will let that happen inside me. I want to let Jesus live in my heart like that little child, and then all through the year allow him to grow in me until I can see who He is, who sent Him and who that makes me. And I want to have the patience to realize that other people are growing Jesus inside of them too, and that we all grow at our own speed.
Have something to say about this article? Leave your comment via Facebook below!
advertise with us
Example: "Gen 1:1" "John 3" "Moses" "trust"
Advanced Search
Listen to Your Favorite Pastors