Kirk Franklin: Fight the Good Fight
Andree Farias, CCM Magazine
Wednesday, March 12, 2008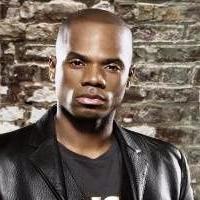 To be late to a church gig is one thing. To be late to a live appearance on the biggest urban music network in the country is another.
Today, Kirk Franklin is late—not to an interview with some website or a phoner with an AM station in Alabama. Franklin's late to none other than BET's 106 & Park, a video countdown show that happens to be one of the highest rated in the entire Viacom empire.
Understandably, everyone's freaking out: his manager, his two publicists, his marketing guy, the marketing guy's assistants, the video promotions gal. It's a serious entourage—when you're on BET, you simply need to roll deep—but it's missing its very ringleader. What's going on?
"Kirk never does this to us," says Damon Williams, the label's director of marketing and one of the many beneficiaries of the BET gig. Like the rest of the entertainer's posse, Williams is there to make sure Franklin pushes his brand-new album, The Fight of My Life (Zomba), as well as hype up his new music video. It's rare for an artist with roots in Christian and gospel music to appear on the show, so this is a big deal to everyone.

But is it to Franklin? It's 6 p.m. already, and, alas, the show must go on. He was supposed to go on at the top of the show, but his tardiness forced producers to shuffle things around. He's now been bumped to the bottom of the show, after the other two guests of the evening, Keyshia Cole and Lyfe Jennings.
Pandemonium breaks loose in the greenroom, but it's a calm, New York-type of pandemonium: everybody's on their BlackBerrys, texting furiously, hoping to get a hold of the man, or at least his driver, or the CBS concierge in charge of escorting him to the greenroom.
Finally, at around 6:30, Franklin saunters in, absentmindedly. Nobody says a word to him about being late. He knows it. We all know it. It turns out he got caught in bumper-to-bumper Manhattan traffic. That's the abridged version of the story. (Franklin would give me the full scoop the next day.)
He small-talks a little bit with his people, makes a couple of last-minute calls, and, right before going downstairs to the studio, he checks himself out in the mirror. The brother looks ready for hip-hop primetime: he's rocking a beanie hat, fur-lined hoodie, v-neck t-shirt, and dark, semi-baggy blue jeans tucked into a pair of massive, cognac-hued lace-up boots. He exudes cool; there's not a trace of nervousness in his visage.
"Whenever you're in a secular environment, you want to make sure you're not compromising or conforming," Franklin tells me. "I'm not going to say [being here] doesn't faze me. I'm an alien and a stranger here. This ain't home."
The main man appears to be in the zone. He's demure, pensive, almost a bit melancholy: the antithesis of his wired, caffeinated stage persona. Carla Williams, his manager, says one of Franklin's missions is to wage "all-out war" against the stronghold the world has on youth. "We're competing for the attention of our young people," she says solemnly. Maybe his reticence is just him getting psyched for battle.
On the way to the 106 & Park studio, Franklin's entourage bumps into Keyshia Cole's. Hers is way bigger than Franklin's—more youthful, skinnier, flashier, more … sparkly. Their urban, dress-to-impress swagger epitomizes the teenaged contingent Franklin is about to mingle with—a far cry from just about everyone in Franklin's crew. A few hugs and stares are exchanged, but Franklin's troupe quickly keeps walking. They can't be late this time.
Have something to say about this article? Leave your comment via Facebook below!
advertise with us
Example: "Gen 1:1" "John 3" "Moses" "trust"
Advanced Search
Listen to Your Favorite Pastors