Kirk Franklin: Fight the Good Fight
Andree Farias, CCM Magazine
Wednesday, March 12, 2008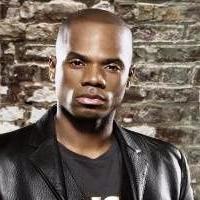 "The night before, I'm here at the hotel praying, Lord, I'm getting too consumed in stuff that ain't you," he says. "I'm serious. What's I'm learning is that God don't have me over here trying to be like them. God don't want me trying to be like them and adapting all of their ways of thinking."
Franklin says narcissism is something that's been with him since childhood. "I've always struggled with it since I was little kid because I always was the little short ugly one," he says. "I had big lips, big nose. I needed braces, couldn't afford them … I've always felt inadequate as far as my looks."
Now Franklin is not a bad-looking dude. He's short, sure, but there's a certain bohemian charm to his 5'4" frame. Plus, he compensates in other ways. When he unveiled the music video for The Fight of My Life's first single, "Declaration (This Is It!)," the day before, viewers also had a chance to see another side of him: his fit, muscular physique. The brother is diesel. The video itself—a Cinderella Man-styled period piece where Franklin boxes himself—is empowering, if not entirely demoralizing if you're anything like me in the leanness department.
I ask him if staying in shape has anything to do with the whole looks thing. "That's even added to my struggle," he says, "just trying to make sure that I ain't losing focus. Trust me, most of my life my looks have not been part of no equation."
Room service arrives shortly after with breakfast—a healthy combo of an all-whites omelet with grilled chicken and spinach, oatmeal with strawberries, orange juice, and a big plate of assorted fruits. Gotta maintain that six-pack.
"Bottom line is vanity got the best of me yesterday," he says.

In between chunks of pineapple, Franklin says he's had other "fights" over the years: a promiscuous lifestyle when he was younger, growing up in a church that taught bad theology, numerous bouts with fear, and a much-publicized pornography problem, among other struggles. He says God has helped him deal with each of these in due time; his part is just to let himself be pruned accordingly.
"God just keeps chipping off some stuff," he says.
The Fight of My Life is an honest-to-God documentation of this molding process, one that Franklin continues to live on a daily basis. The album is as grand anything he's done in the past, but it's decidedly more eclectic and urban than his past repertoire. No expense is spared, from the use of a brilliant Kenny Loggins sample in the leadoff single to an understated horn section and lush strings in several songs. As is expected, his guests run the gamut, from brother-in-arms Da' T.R.U.T.H. to a favorite of Franklin's, gospel mainstay Rance Allen. And, of course, tobyMac.
"Kirk Franklin is the bridge to gospel music for the entire world," says the former dc Talker. "He epitomizes the heart and soul and inspires everyone to embrace all that gospel music is." Franklin reciprocates the props. "Toby and I … there's something very kindred about him," he says. "He's so close to being black, and I'm so close to being white that we just connect."
The album is a tour de force—one of Franklin's very best—but he admits it didn't come easy. God just wasn't dropping the songs. The word he chooses to describe the slower-than-normal creative process is one I don't want to repeat over in my head too many times: "I was stuck because I was not pregnant with songs," he says. "I can just tell when it's time [for a new album] 'cause God would impregnate me."
Have something to say about this article? Leave your comment via Facebook below!
advertise with us
Example: "Gen 1:1" "John 3" "Moses" "trust"
Advanced Search
Listen to Your Favorite Pastors