KJ-52: The Man Behind the Musik
Gregory Rumburg, CCM Magazine
Tuesday, May 23, 2006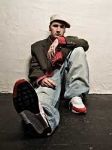 Two years ago, he won the first Dove Award in Tooth & Nail Records' history. Then this year CCM readers crowned him their "Favorite Hip-Hop Artist." Popular? Indeed, but how well do we really know Jonah Sorrentino?
Safe to say, no right-thinking record company dreamed up this plan for a PowerPoint presentation:  Seeking white male from the Southeastern region of the United States for a national, Christian hip-hop career. Still, KJ-52 got a shot.
"When I tell strangers what I do, I might as well have told them I train pygmy rattlesnakes for the circus," the rapper admits. "My whole life has pretty much been an uphill battle trying to explain what I do or where I'm from or what happened. It's definitely been a challenge."
KJ's a scrapper, fully aware he didn't start out as the most talented kid in the class. But his drive and character pushed him to hone his skills — toil that's paying off today. His lauded 2005 autobiographical effort, "Behind the Musik (A Boy Named Jonah)" (BEC), helped push the former youth minister's career totals to more than a half-million records sold. The tally adds credence to his 2004 Dove Award for "Rap/Hip-hop Album of the Year" ("It's Pronounced Five Two") and to his pair of recent Gospel Music Award nominations. With some 400,000 Delta Skymiles over the last couple of years under his three-cell-phone-a-day belt, the avid podcaster works more touring options than ever before.
With a new project that dropped last month, "KJ-52 Remixed," KJ fans are up to their dickies in his celebratory beats — forcing proverbial naysayers to take a second look. Case in point:  KJ-52 will celebrate six years in the biz next month, yet this is his first real CCM Magazine feature.
So what gives? Studio whiz Aaron Sprinkle, who co-produced "Behind the Musik," points to the fact that KJ "works so hard to connect with fans.
"It's good to see him start to be recognized for that," he adds.
Logically, it is indeed the hard work. Where reason is defied, KJ offers this perspective: "It proves that God takes the foolish things of the world and does something with it."
"Beating the Odds" headlines the narrative behind KJ-52's music, driven by unique, personal storylines.
After Essential Records rolled the dice on KJ with 2000's "7th Avenue," reviews were mixed; and fans were slow to warm up to the debut. Because of resulting poor record sales, KJ was amicably dropped from the label. Determined, he shopped for a new deal. Only the avant-garde Tooth & Nail Records would open its doors, via BEC/Uprok Records. But it was just the kind of foolishness that was necessary for "Collaborations," a turning point that gave the rapper a new start and illustrated what KJ does best:  fight for what he believes in.
It's a spirit of living he garnered during an unconventional childhood as Jonah Sorrentino, KJ's given name. Growing up, he was permitted to call his parents by their first names, Richard and Lana, centerpieces of "Behind the Musik." The two met as art students in Brooklyn during the height of the '70s downtown pop art movement. Adoring Soho culture yet pining for Florida, the hippies trekked to the unlikely Ebor City, Fla. — "pretty much the ghetto of Tampa," says KJ — to open an art studio.
Ebor City's 7th Avenue neighborhood fashioned a blend of gritty urban and artistic living; and though the couple split after their first year there, KJ remembers his parents created a nurturing, creative environment. Among mostly black and Cuban neighbors, and to sonic wallpaper at home formed by Bob Dylan, Bob Marley and Top 40 '80s music such as The Police, KJ pursued drawing, modeling and acting as expressions of his artistic nature. But what KJ embraced most there was an appreciation for culture.
Have something to say about this article? Leave your comment via Facebook below!
advertise with us
Example: "Gen 1:1" "John 3" "Moses" "trust"
Advanced Search
Listen to Your Favorite Pastors