"Kristy Starling" - Music Review
David McCreary

Music Reviewer

2003

26 Jun

COMMENTS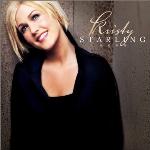 Artist:   Kristy Starling
Label:   Warner Bros. Christian
Let's get one thing straight right away: Kristy Starling can flat-out sing. Best known for her impressive runner-up finish in a recent "Today Show" talent competition, this 22-year-old certainly has all the right qualities for success: deep conviction, heartfelt emotion and amazing vocal ability.
It should come as no surprise, then, that Starling's self-titled debut shines brightly thanks to a deft balance of grace and prowess. The 10 tracks found here showcase the singer's impressive range and diverse pop sensibilities.
Highlights include "As Long as We're Here" — a song about redeeming one's time on earth, and acoustic-driven pearl "You Love Me Like That," a simple track that speaks of God's immeasurable love. Also notable is a well-executed cover of LeAnn Rimes' ballad "I Need You," although the background instrumentation is a bit too heavy.  
Just shy of hitting the bull's-eye, Starling has generated an enduringly hopeful and satisfying release.

Used by permission.  CCM Magazine © 2003  Click here to subscribe.